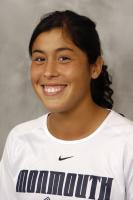 Jersey Shore Boca U23 standout and Monmouth University junior Andrea Lopez was selected as the winner of the BigAppleSoccer.com goal of the week as she broke a scoreless tie with five seconds remaining in the second extra-time to lift the Hawks to a 1-0 NEC victory at Wagner on Friday. This is the second time this college season that a Boca U23 player was given such an honor.
A Big Apple Honor
Boca's Lopez nails College Goal of the Week
NEW YORK, NY (November 3, 2008) – Jersey Shore Boca U23 standout and Monmouth University junior Andrea Lopez was selected as the winner of the BigAppleSoccer.com goal of the week as she broke a scoreless tie with five seconds remaining in the second extra-time to lift the Hawks to a 1-0 Northeast Conference victory at Wagner on Friday.
Lopez was honored for the week ending Sunday, Nov. 2.
The win improves sets up Monmouth (7-1 conference, 14-2-1 overall) and sets up a showdown with Long Island University on Sunday for the NEC regular-season title and top-seed in the upcoming conference tournament.
Lopez, who scored her fourth game-winning goal on the season, connected for her fifth goal at 109:55.
Monmouth, which won the 2007 NEC regular season and tournament championships, earned its 14th win, the third-highest victory total in program history. The Blue and White posted 14 wins two seasons ago, while the Hawks delivered three consecutive 17 win campaigns from 1994-1996, and two 15 win seasons in 1987 and 1988.
This is the second time this college season that a Boca player was given such an honor by BigAppleSoccer.com as Hawk teammate and fellow Boca U23 member Joni DeMoore received the same accolades four weeks ago on October 6.
Lopez and DeMoor along with Monmouth midfielder April Damurjian and defenders Sarah Conway and Brianna Salvia, were all members of the Boca U23 women's team this past summer.
Boca has been a fixture in the soccer community since 1978 and is one of the most respected soccer clubs on the East Coast.
The Club is celebrating their 30-year anniversary in 2008.
For more information about the Boca U23 teams and all other the Jersey Shore Boca programs logon to the Club's official web site at www.jerseyshoreboca.com
BigAppleSoccer.com college goal of the week winners
Week 1 (Aug. 25) — Cody Newman (Duke University)
Week 2 (Sept. 1) — Carlos Salazar (Seton Hall)
Week 3 (Sept. 8) — Brett Carrington (Hofstra University)
Week 4 (Sept. 15) — C.J. Ludemann (St. John's University)
Week 5 (Sept. 22) — Graeme Roderick (Molloy College)
Week 6 (Sept. 29) — Josh Maley (Long Island University)
Week 7 (Oct. 6) — Joanna DeMoor (Monmouth University)
Week 8 (Oct. 13) — Sam Acheampong (Fordham University)
Week 9 (Oct. 20) — Courtney Lane (St. John's University)
Week 10 (Oct. 27) — John Sallhag (St. Francis College)
Week 11 (Nov. 3) — Andrea Lopez (Monmouth University)
news