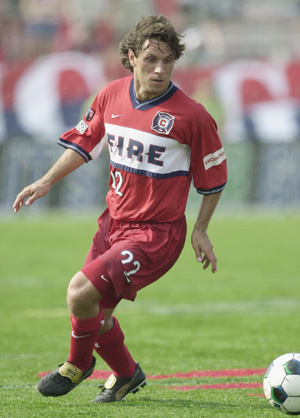 The Atlanta Silverbacks of the United Soccer Leagues A-League announced today that David Vaudreuil, former Jersey Shore Boca PDL head coach has been named the team's head man for the 2004 season. Vaudreuil began his coaching career last year with Boca's PDL side and compiled a record of 4-8-0 in the team's first season.
Former Boca Coach Lands Atlanta's Head Spot
Vaudreuil Becomes Head Coach of A-League Silverbacks
ATLANTA, GA (February 9, 2004) – The Atlanta Silverbacks announced today they have hired former MLS defender David Vaudreuil as their new Head Coach.
Vaudreuil has had a very successful playing career winning two MLS Championships (1996, 1997) and one US Open Cup championship (1996) with DC United in and a Mexican Indoor Championship with Pueblo in 1994. In addition to these honors Soccer America also selected him to the 'Best Ever' teams of both DC United and the Colorado Rapids.
Vaudreuil played his first two seasons with DC before moving to Miami in 1998. After 20 games with the Fusion, he closed the season out with Colorado, where he played until 2000. He spent his last two seasons in Chicago before retiring after the 2002 season.
A defender, Vaudreuil finished his seven-year MLS career with 151 appearances, 12,062 minutes played, four goals and 16 assists in the regular season. He registered five assists in 25 postseason appearances.
His playing career also included stints with the Connecticut Wolves and Hampton Roads Mariners of USL, Baltimore Blast and Milwaukee Wave of the NPSL and the New York Centaurs and Tampa Bay Rowdies of the APSL. He began his professional career with the Washington Stars of the ASL in 1989. At the college level, he was a four-year starter at Princeton under then head coach Bob Bradley.
He began his coaching career last year with Jersey Shore Boca, who played a provisional schedule in the Premier Development League. The club was 4-8-0 in its abbreviated 12-game schedule.
Vaudreuil is an articulate speaker with effective public relation skills in both Spanish and English and served as an Executive Committee Member of the Major League Soccer Players Association from 1997-2002.
Stephen Pratten, President/CEO of the Atlanta Silverbacks remarked "we are very pleased to have found a person of David's quality and experience. We are certain the knowledge he brings will be a tremendous asset to the Atlanta Silverbacks organization and the Atlanta soccer community."

news