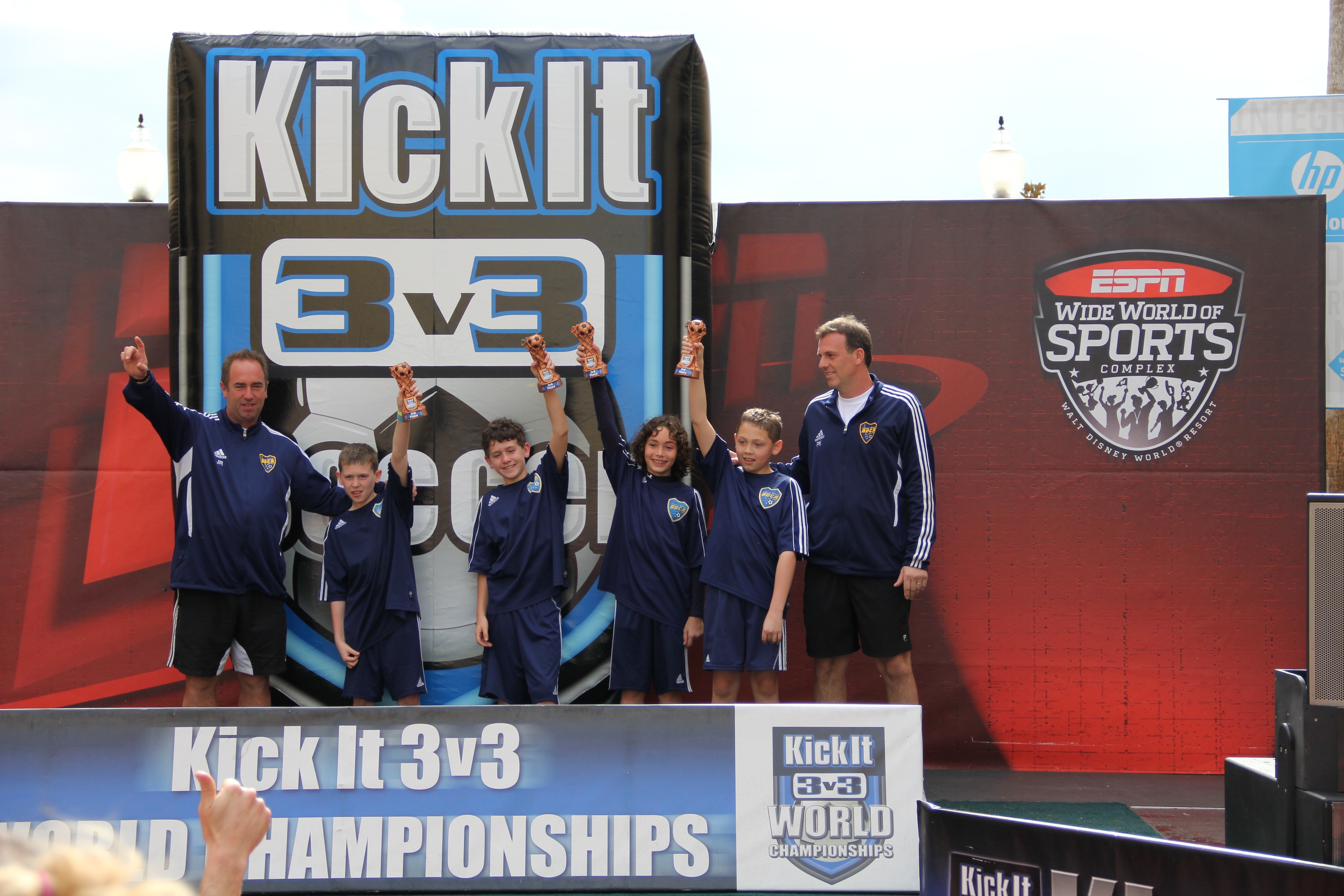 Congratulations are in order for the Jersey Shore BOCA Gunners U11 Boys squad who recently competed in the Kick-It 3v3 World Championships at Walt Disney World Resort in Florida.
The road to the World Championships was earned by the team's top placement in both the Philadelphia (local) event, followed by the Regional Championships in York, PA.
BOCA Gunners placed two teams into the Kick-It 3v3 World Championships, Gunners and Arsenal, and each had their share of successes.
BOCA Gunners placed in the top 4 of their division and top 6 overall.  The Gunners were represented by Bennett Messinger (Freehold), Daniel Ramm (Freehold), Eric Tsirkin (Marlboro), Leah Scarpelli (Brick) and Peter Kozlej (Toms River).  Gunners competition included teams from Colorado, Illinois, North Carolina and New Jersey.
BOCA Arsenal placed 2nd within their division and 3rd overall.  Arsenal were represented by Adrian Dilascio (Monroe), Bryan Bodnarchuk (Bayville), Casey Burhanna (Cape May) and Sean Moffatt (Flanders).  Arsenal's competition included teams from Georgia, Florida and Tennessese.
In addition to team competitions, the pre-event training, daily meals and travel with teammates and enjoyment of Walt Disney World Resort provided a memorable experience for the players.
Player memories of the event:
Bryan Bodnarchuk – "It was a good experience for our team.   It was amazing on and off the field.  Lots of fun playing soccer, swimming & manhunt!  Can't wait to go back and do it again! We met great new friends and the trip made our team closer."
Casey Burhanna – "Playing soccer at Disney was a lot of fun!  Playing soccer and hanging out with my dad and my new friends was a blast!  Thank you Coach Ramm for inviting me to Disney."
Adrian Dilascio – "Being at Disney's 3v3 for the first time, I didn't know what to expect, but the teams we played were skilled and competitive.  It wasn't too tough until the very end and even though we placed 3rd I think the Gunners were still the best.  Being with my friends and teammates was so much fun, from the plane ride with Daddy to the shuttle rides to the fields and pool, it was the best time ever!  I hope we go again."
From Coach Joseph Ramm:
It was a blast. Friday night training, Saturday, Sunday, and Monday competing.  Fun at the pool and downtown Disney.  Finishing with the Bronze in the Silver division and Final Six in the World in the Elite Invitational Division.  Winning the North East Regional.  And most of all, the children's smiles and love for the beautiful game.  Nothing better!  Soccer at it's best…..
Jersey Shore Boca has been a fixture in the soccer community since 1978 and is one of the most respected soccer clubs on the East Coast.
For more information on the Jersey Shore Boca Soccer Club visit the Club's official web site at www.jerseyshoreboca.com.