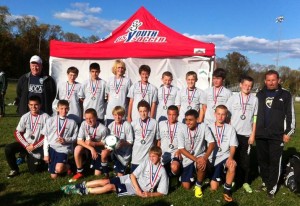 The State Cup Journey:
Jersey Shore BOCA Juniors outscored their opponents 20-5 in cup play. The low number of goals scored against the BOCA Juniors throughout the tournament is attributed to BOCA's strong defensive back line and keepers.
BOCA started the first three rounds of the tournament by defeating Toms River Gunners 4-0, Cherry Hill Strikers 3-0 and PDA Jinky 4-2.
In the quarter-finals, BOCA Juniors bested the Tinton Falls Riptide 4-0 to advance to the semi-finals, where they would face Hazlet United Cobras.  BOCA Juniors came out strong in the first half by scoring 2 goals for a 2-0 lead at the half. Hazlet United came back strong in the second to tie it 2-2 at the end of regulation, forcing the match into overtime. With the match still tied 2-2 in the second overtime period, and the clock winding down, BOCA was able to put one away with only 2 minutes left giving them a 3-2 victory and placement in the finals.
BOCA faced off with Mainland United Lightning in the finals. After a hard-fought first half by both teams, Mainland scored the first goal of the match early in the second with BOCA quickly following that up to tie it 1-1. With minutes left on the clock, BOCA put the game winning goal in with a free kick from ~40 yards, slipping the ball between the Mainland keeper's finger tips and the crossbar for the deciding goal and the NJYS State Cup Championship.
From Coach, Ed Hope:
"As we entered the first round of the Cup, Vinnie and I could sense the boys were on a mission; a mission to not only make it to the Cup finals but to win it. That determination combined with many hours of training allowed the boys to complete their mission on Sunday, in Marlboro, by defeating Mainland United Lightning 2-1. The boys earned this. They have worked very hard for it."
From President, Guy Lockwood:
"BOCA Juniors success in NJYS State Cup is a culmination of great leadership, talented individuals and a firm commitment to player development.  Jersey Shore BOCA is proud of the team's success and looks forward to a bright future for the boys."
BOCA Juniors Championship Team members: Cory Branz (Barnegat), Jeffrey Brown (Beachwood), Keith Chinery (Whiting), Brandon Downey (Howell), Dylan Fiedler (Forked River), Jordan Finkle (Manchester), Nicholas Heim (Bayville), Evan Hope (Forked River), Milan Kleva (Whiting), Ethan Leming (Manahawkin), Stephen Marrone (Howell), Kevin Miller (Forked River), Aristides Papoutsakis (Brick), Oliver Peluso Nora (Toms River), Nicholas Puglia (Howell), Jake Salerno (Howell) and Zach Stankovics (Beachwood).
Jersey Shore Boca has been a fixture in the soccer community since 1978 and is one of the most respected soccer clubs on the East Coast.
For more information on Jersey Shore BOCA, please visit the Club's official website at www.jerseyshoreboca.com.