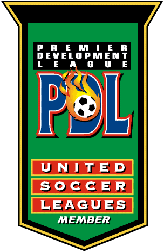 The Jersey Shore Boca soccer club announced today that it has signed twenty players to the club's inaugural Premier Development Team roster and has added three members to their PDL coaching staff. Jersey Shore Boca will kick-off their first PDL season on Sunday against Brooklyn.
Club also adds 3 coaches and prepares for first historic match against Brooklyn
May 2, 2003 (Toms River, NJ) – The Jersey Shore Boca soccer club announced today that it has signed twenty players to the club's inaugural Premier Development Team roster and has added three members to their PDL coaching staff.
The Jersey Shore Boca PDL team will travel to the Metropolitan Oval in New York City on Sunday May 4th for a 5pm start against the Brooklyn Knights for their first PDL game in club history.
Jersey Shore Boca was awarded a PDL franchise from the United Soccer Leagues in November of 2002.
Boca's PDL roster will feature experience as well as youth and will also have a flair of some of the best local soccer talent to ever pass through the New Jersey shore.
The twenty players signed to Boca's initial PDL roster include 3 former professional players, 5 players who are current members of the Jersey Shore Boca men's open team, 10 collegiate players including a 2002 NSCAA Division I All-American and 2 high school age standouts.
"I am pleased with the talent level of our team. The team is built around our older players such as Dan Annan, Kemal Kansu, Ed Decker, Adam Curtis, and Mike Hayes," said David Vaudreuil head coach of Boca's PDL team.
Vaudreuil, who also has been added to Boca's roster for Sunday's game, ended his fourteen-year professional playing career in October 2002 when he retired from Major League Soccer at the end of the season. He is a seven-year veteran of MLS having played in 176 games and logged over 13 thousand minutes on the field.
"Our line up for Sunday is very strong. The questions are going to be are we fit enough and will the lack of playing time together be a factor. We are very talented and experienced in the back and if we have the legs should be very dangerous going forward" Vaudreuil continued about Boca's inaugural PDL game.
The Jersey Shore Boca PDL forwards include Kemal Kansu a former star with the NJ Stallions and standout at Methodist College. Kansu graduated from Toms River East HS in 1994 and is the current boy's head soccer coach at Point Pleasant Beach high school.
Joining Kansu up top is Michael Hayes a 6'4″ 220lb Rowan University scoring machine who also starred at Central Regional HS in the mid-1990s. Hayes is a current member of the Boca men's open team.
Jamie Nelson, a Richard Stockton College and Toms River North HS standout and Damien Woodley, a 16 year old from Marlboro HS, who is also a member of the Jersey Shore Boca U17 Super Y-League team, round out the Boca strikers.
The Boca PDL midfielders include Dan Annan, a former standout with the Rochester Rhinos of the USL's A-League and St. Lawrence University. Annan is a local product out of Freehold NJ.
Teamed with Annan will be Kevin Ara from Harvard University. Ara was selected as a third-team 2002 NSCAA Division I All-American while playing for the Crimson.
Jason Kutney another Freehold NJ product who is a three-year starter and letterman at Duquesne University and Ken Masuhr a local standout from Ocean Gate NJ and Richard Stockton College are also in the midfield mix. Masuhr graduated from Monsignor Donovan HS in 1999.
Two New Jersey natives complete the Boca PDL midfielders. Ari Schneider from East Brunswick who stars for Syracuse University joins Johnny David who hails from Hillside NJ. David, who is in his senior year at Fairleigh Dickinson University, was a first team All NEC selection.
The Boca PDL defenders include two long-time members of the Jersey Shore Boca club Ed Decker and Adam Curtis.
Decker, who now makes his home in Manahawkin NJ, is another former member of the NJ Stallions. He had outstanding collegiate and high school careers at East Stroudsburg University and Toms River East HS. Decker is also a current member of the Boca men's open team.
He will join Adam Curtis of Bay Head NJ, also a current of the Boca men's open team. After an exceptional college career at the University of Rhode Island, Curtis continued his playing with the NJ Stallions among other professional teams. Curtis is the current head women's soccer coach at Georgian Court College in Lakewood, NJ.
Jamie Davis of Avalon NJ who played at Gloucester County College will join Christian Pardo of Hillside NJ as other defensive options. Pardo also plays for Bloomfield College.
Rounding out the Boca defenders are Chris Elliott of Bayville NJ and Jared Lewis of Toms River, NJ. Both Elliott and Lewis are members of the Boca men's open team.
At present, the goalkeeper spot will have a Big East flavor as three individuals will battle for playing time between the pipes for the Boca PDL side.
George Vasilakis, a Toms River North HS and Mercer County College standout, will lead the list of three. Vasilakis announced his decision to attend Rutgers University after graduation from Mercer this year and will compete for playing time for the Scarlet Knights in the fall.
Chris Konopka a senior at Toms River East HS and Andrew Gretton of Waldorf, MD round out the group of three.
Konopka, who is 18, is a long-time member of the Boca youth program. He is also a two-year member of the Boca Super Y-League teams and was also named a 2002 NSCAA High School Regional All-American. Konopka has signed a NLI to attend Providence College and play for the Friars in September.
Gretton a 6-3 junior at Frostburg State University in Maryland is in the mix as well. Gretton will transfer to West Virginia University this fall and will battle for a starting role in goal.
Vaudreuil also commented on Boca's future PDL signings by adding, "We also have a great mix of college stars who have committed to us but have not been available because of school. Over the next few weeks we will announce some other signings and incorporate our other Division I college players into the line-up."
Jersey Shore Boca has also announced that it has named Erik Burstein, Bill Carroll and Ted Gillen to their PDL coaching staff for this season.
Burstein will be the team's head assistant coach as well as goalkeeper coach. He was a long-time member of the Jersey Shore Boca youth program and standout performer in goal at Toms River East HS.
He is a candidate for a USSF National "C" coaching license, holds an NSCAA National Goalkeeping Diploma and a NSCAA National Youth Diploma. He is also the assistant women's soccer coach at Rutgers University in Newark, a current New Jersey ODP goalkeeper coach and the Director of Coaching for the Manchester Soccer Association.
Carroll will also be an assistant coach for the PDL team. He holds an USSF "B" coaching license and is also the current head coach of the Jersey Shore Boca 2003 U17 Super Y-League team.
Ted Gillen will be responsible for Boca's PDL player scouting and recruitment. Gillen is a jersey shore soccer icon. He had an exceptional career at Toms River East HS and Penn State University. He also was a member of the United States Men's National Team and played professionally with the Metrostars of Major League Soccer and the NJ Stallions of the USL.
The Premier Development League is the only national men's U23 amateur league in the United States. PDL rosters can have up to twenty-six players, eight of which can be over the age of 23. PDL rosters must also contain at least three players under the age of 19.
Designed to help develop players for professional careers, the PDL allows elite high school and college players to compete in a "pro"-like environment without losing their college eligibility. The PDL was also granted Olympic Development Program status by the United States Soccer Federation in 2001.
Jersey Shore Boca has been a fixture in the soccer community since 1978 and is one of the most respected soccer clubs in New Jersey. The club is celebrating its 25-year anniversary during 2003.
For more information about Jersey Shore Boca you can log on to the club's new official website at www.jerseyshoreboca.com

news