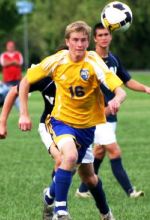 The Jersey Shore Boca U18 boy's team has earned a spot in the final eight of the 2010 New Jersey Youth Soccer State Cup National Championship Series after defeating PDA 1-0 on April 28. The Boca boys will now play host to the quarter-final round of the NJ State Cup at Berkeley Township on Sunday May 16 at 1:00pm at the Berkeley Soccer Complex as they take on a powerful NJSA U18 side.
Boca U18s Advance to Cup Quarter-Finals
Team blanks PDA 1-0 to move into the final eight
BERKELEY TWP, NJ (May 5, 2010) – The Jersey Shore Boca U18 boy's team has earned a spot in the final eight of the 2010 New Jersey Youth Soccer State Cup National Championship Series after defeating PDA 1-0 on April 28 and will now play host in the quarter-final round of the NJ State Cup at Berkeley Township on Sunday May 16.
The Boca U18 side will square-off against the New Jersey Soccer Academy (NJSA) U18s who narrowly defeated the NJ Dynamo 5-4 in the second round in a goal-packed ninety minutes.
The boys of blue and gold took the lead over PDA four minutes into the match on an unassisted goal by Sean Casey (Toms River).
Casey, who also played a key role in Toms River South's NJSIAA Group IV title run last year, stole a errand PDA pass in the middle-third of the pitch and went 40-yards untouched to the far right side about eighteen yards out.
The talented Boca midfielder fired a bullet into the back of the net past the PDA keeper who saved several quality Boca chances throughout the ninety minutes keeping the match in reach for PDA.
Boca goalkeeper Anthony Tamburro (Toms River) tallied a stellar performance in goal for the U18s preserving the victory and earning a shutout.
The quarter-final match between Boca and NJSA, which is open to the general public with free admission, will be played on Sunday, May 16 at the Berkeley Soccer Complex (field number 1) located at 560 Eastern Boulevard in Bayville.
The kick-off is scheduled at 1:00pm.
The Boca U18 team is coached by Southern Regional High School Hall of Fame member and former Monmouth University standout Guy Lockwood who played professionally for several years with the North Jersey Imperials of the USISL after his college career ended.
The winners of the New Jersey Youth Soccer State Cup National Championship Series in all age groups will advance to the US Youth Soccer Region I Tournament to be held in Barboursville, West Virginia with the regional champions advancing to the US Youth Soccer National Finals to be held in Overland Park, Kansas.
The U18 boys National Champion will be awarded The Andy Stone Cup.
Jersey Shore Boca has been a fixture in the soccer community since 1978 and is one of the most respected soccer clubs on the East Coast.
The Club is celebrating their 32-year anniversary in 2010.
For more information on the Jersey Shore Boca Soccer Club visit the Club's official web site at www.jerseyshoreboca.com
GAME DETAILS:
New Jersey Youth Soccer State Cup National Championship Quarter-Finals
Jersey Shore Boca vs. NJSA
Age Group: U18 Boys
Date: Sunday, May 16th
Time: 1:00pm
Location: Eastern Boulevard Soccer Complex (Field #1)
Address: 560 Eastern Boulevard, Bayville 08721
Open to the Public – Free Admission
news