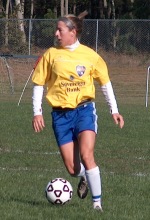 A date in the New Jersey State Cup Semi-finals, a second place position in the Garden State Soccer League standings and the GSSL leading goal scorer highlight the accomplishments of the Jersey Shore Boca Women's Open Team at the mid-way point of their 2007-2008 season as the team prepares for the new year.
Boca Women – A Mid-Year Report Card
A date in the State Cup Semi-finals and league's leading goal scorer highlight first half of season
TOMS RIVER, NJ (December 19, 2007) – A date in the New Jersey State Cup Semi-finals, a second place position in the Garden State Soccer League standings and the GSSL leading goal scorer highlight the accomplishments of the Jersey Shore Boca Women's Open Team at the mid-way point of their 2007-2008 season as the team prepares for the new year.
The Boca women hold an overall record of 8-1-0 at the break including a 7-1-0 record in the GSSL Women's Top Division and a 1-0 mark in the initial round of the 2007-2008 New Jersey Women's Open State Cup.
The team's only loss came at the hands of the division leader Peninsula Aztecs in a 1-0 heartbreaker played back in October.
In State Cup action, Boca toppled the Brunswick Blaze 6-1 earlier this fall advancing them into the semi-final round which will be played in the spring against Real Wyckoff.
The Boca women have amassed 40 goals thus far while allowing only 10 in both league and cup play.
Boca's Kristen Kowit (Lakewood) is the Garden State Soccer League's leading women's scorer at the break tallying 11 goals in 9 league games.
Kowit, a two-time All-American and two-time ODAC "Player of the Year" during her college career at Lynchburg College, is the current girls varsity coach at Red Bank Catholic High School.
Former Ocean County College standout Nicole Laureigh (Lacey) is second on the Boca team and third in the League in scoring with 7 goals with former Rider University and Jackson Memorial midfielder Sarah Artale (Jackson) and Seton Hall and Brick Green Dragon alum Jaimie Silva (Brick) having scored 4 goals each at the break.
The Boca women, who are playing their first season together wearing the "Blue and Gold", are coached by Silva along with Bob DeStefano.
Jersey Shore Boca has been a fixture in the soccer community since 1978 and is one of the most respected soccer clubs on the East Coast.
The Club will celebrate their 30th anniversary in 2008.
For more information on the Jersey Shore Boca Soccer Club visit the Club's official web site at www.jerseyshoreboca.com
news