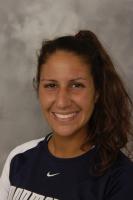 Monmouth University senior and Boca U23 standout Joni DeMoor, who spearheaded the Hawks comeback victory over FDU on Sunday, was named winner of the bigapplesoccer.com college goal of the week for the week ended October 6th. DeMoor was a member of the Boca U23 women's team this past summer which advanced to the USASA U23 Regional Tournament for the second consecutive season.
Boca's DeMoor Wins Goal Of The Week Honors
Boca U23 standout tabbed by bigapplesoccer.com
NEW YORK, NY (October 7, 2008) – Monmouth University senior forward and Jersey Shore Boca U23 standout Joni DeMoor (Wayne, NJ), who spearheaded the Hawks comeback from a 2-0 deficit into a 3-2 victory over Fairleigh Dickinson University Sunday, was named winner of the bigapplesoccer.com college goal of the week for the week ended October 6th.
DeMoor, who connected on the equalizer and game-winner, was honored for the week ending Sunday, Oct. 5.
She scored the equalizer in the 89th minute and the game-winner four minutes into the extra session, to pace the Hawks, who are unbeaten in their last eight matches.
DeMoor knotted the score at 2-2 when she was fed a pass wide down the left flank by freshman Courtney Snyder, circled around the ball and lifted a shot on frame from a tough angle, which caught FDU goalkeeper Megan MacKellar off her line, and found the far netting.
Snyder crossed the ball into the box, which DeMoor nodded in for her team-leading seventh goal of the year, and fourth game-winner, in the 94th minute.
DeMoor was a member of the Boca U23 women's team this past summer which advanced to the USASA U23 Regional Tournament for the second consecutive season.
Boca has been a fixture in the soccer community since 1978 and is one of the most respected soccer clubs on the East Coast.
The Club is celebrating their 30-year anniversary in 2008.
For more information about the Boca U23 teams and all other the Jersey Shore Boca programs logon to the Club's official web site at www.jerseyshoreboca.com
bigapplesoccer.com college goal of the week winners:
Week 1 (Aug. 25) — Cody Newman (Duke University)
Week 2 (Sept. 1) — Carlos Salazar (Seton Hall)
Week 3 (Sept. 8) — Brett Carrington (Hofstra University)
Week 4 (Sept. 15) — C.J. Ludemann (St. John's University)
Week 5 (Sept. 22) — Graeme Roderick (Molloy College)
Week 6 (Sept. 29) — Josh Maley (Long Island University)
Week 7 (Oct. 6) — Joanna DeMoor (Monmouth University)
news