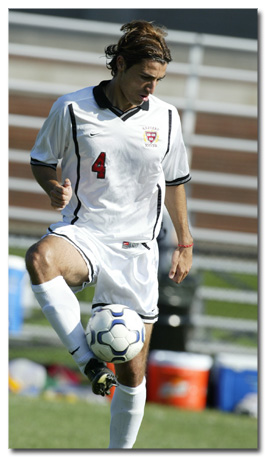 The first-time spectator at a Harvard Crimson soccer game will often reach for the program to look at the name of No. 4. That's because Kevin Ara stands out on the field… and the Missouri Athletic Club agrees. That organization has made Ara a finalist for soccer's Heisman — the Hermann Trophy. Ara was a member of the Boca PDL team this past summer.
Easy To Spot
Created: 10/17/2003 8:52:52 AM
By Kevin Anderson,
Harvard Assistant Director of Athletic Communications
In every sport, certain players stand out to fans. Whether it is the smoothest player on a basketball court, the fastest player on a football field, or the toughest player on skates, spectators know who they are after just a few moments of action.
Then there are players who stand out to their opponents and their teammates. You constantly hear the opposing team screaming, trying to locate where this player is on the playing surface, where they are going, and who should be going there with them. When the Harvard men's soccer squad kicks off a match on Ohiri Field or any other soccer complex, they have one of those players in senior midfielder Kevin Ara.
You can just tell he is different. The way he plays, his on-field movements, his almost conversational style of getting the referee to take time and listen to the point he's trying to make, the sudden bursts of energy he uses to reach balls defenders think they already have in their control. His on-field braggadocio, his off-the-field confidence—it all reflects the characteristics of a player no one can take their eyes off of.
Before Ara could become that player here at Harvard, he had to adjust to his new surroundings, a world away from what he knew. A California kid relocating to Cambridge can be difficult, with New England's ever-changing weather, that whole other language Bostonians speak (which locals claim is just an accent), not to mention the distance from family and friends.
"Freshman year was tough. I kept asking myself 'What am I doing here?" Ara remembers. "The coaches helped me a lot. They called me and talked to me, asked me how I was doing, how are classes going. They made me feel really comfortable."
Ara also found comfort in teammates and new-found friends who he immediately made an impression on.
"My lasting memory of Kevin as a player was actually in practice as a freshman. He picked the ball up about 25 yards out and curled it into the top right-hand corner. I knew then what a player he could be," recalls senior captain and classmate Andrew Old. "He has great vision, and the rare ability to be able to play the necessary ball on a dime. Kevin is one our best players and is without doubt one of the top midfielders around, especially in the Ivy League."
"Kevin is a player you always want on your team because he is the 'go-to' guy when things get tough—and he will manage some way to win," says junior back Zach Chandis. "Kevin's touch, vision, and skill are his greatest attributes, whereby most of our play-making goes through him. He has shocking long balls that are on target every time."
Old and Chandis aren't the only ones who think highly of Ara. In 2002, he was named Third Team All-American, becoming the first Harvard player to earn that distinction since 1996 when former Crimson great Will Kohler was named to the First Team. He also was named NSCAA All-New England and First Team All-Ivy after posting a team-high 20 points on nine goals and two assists.
In advance of this season, Ara was placed on the Missouri Athletic Club "Watch List" for the Hermann Trophy, college soccer's version of the Heisman Trophy. It represents the highest level of individual achievement in the sport. The fact that Ara was placed on a list with only 14 other men's soccer players further indicates how many eyes are actually on him.
Ara's lot on the pitch is that of a difference-maker. During a three game stretch last season, he scored the game-winning goal in all three contests, a 3-2 victory over Maine and 2-1 triumphs over Providence and Brown. The Brown win is one Ara won't soon forget. With his family and friends in the stands, he scored the first goal of the game on a penalty kick, but the Bears responded with a tally of their own to even the score. Ara countered, putting the Crimson up for good in the 72nd minute when he scored on a wide open shot off a rebound. That game, combined with his heroics at Providence, earned him Ivy League Player of the Week.
He did all this despite missing the final five games of the season with an injury, a hiatus which may have cost him Ivy League Player of the Year. "I was just upset because I felt like my whole team was counting on me to be there and carry this team, and I couldn't do it," Ara recalls. "That was the most frustrating part, not being able to play. Just having to sit there and not being able to help them."
"Kevin has established himself as one of the better attacking midfield players in the League. He has technical ability and creativity that make him a constant threat," says Yale head coach Brian Tompkins, whose Bulldog teams have gone 1-3 against Ara and his Crimson mates over the past four seasons—with Ara making his presence known to the Elis. In 2000, as a green freshman, he scored the game-winner in a 3-2 triumph, then in the 4-2 win in 2001, he helped out with two assists. "No team can afford to relax when he has the ball," continues Tompkins.
Teams are constantly focusing on Ara's every move, and with that comes the opportunity to find different ways to score and become a play-maker and net crasher. The 2003 season has already seen Ara score on a free kick and off a rebound while hanging around out in front of the net. Figuring out different ways to score and setting up teammates will be paramount as the Crimson look to pick up steam heading into the thick of Ivy play. It also will open up the field for the talented teammates he has playing with him.
Two huge benefactors so far from the collapsing defense on Ara have been freshmen Matt Hoff and sophomore Brian Charnock. A speedy wing that canvases the field with ease, Hoff has registered a team-high five goals, as the defense hovers around Ara, leaving the outside players to roam free and attack the goal area. On a swing through North Carolina and Duke and a home win over Maine, Charnock notched his first two goals of his career and ended the week with seven points. That effort was good enough to earn him Ivy League Player of the Week, the same week Hoff was awarded the League's top rookie honor.
"Sometimes you just have to be able to take one for the team and use it to your advantage," Ara explains. "Right now, Hoff is open, Charnock is open, and the rest of the midfield guys are open—it's great for us."
Ara's mere presence on the soccer field not only creates opportunities for himself, but also for others. He's a difference-maker, remember. And difference-makers always stand out.
October 17, 2003
Harvard University
news