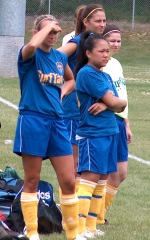 The Boca U23 women's team will try to take their place among the elite teams of the northeast this weekend when they travel to the United German Hungarians Club in Oakford, PA and participate in the USASA U23 Regional Championships. The Boca U23 women are in the middle of their first season in Club history and participate in the Mid-Atlantic Summer Showcase League.
First Year High
Boca U23 women's team to play in USASA U23 Regional Championships
LAKEWOOD, NJ (July 11, 2007) – The Jersey Shore Boca U23 women's team will try to take their place among the elite teams of the northeast this weekend when they travel to the United German Hungarians Club in Oakford, PA and participate in the United States Adult Soccer Association (USASA) U23 Regional Championships.
Boca will be one of twelve U23 women's teams participating in this year's Regional Championships with the winner heading to Seattle, WA from August 3rd through 5th and a spot in the U23 USASA National Championships.
The U23 Boca women will face the Bethesda Eclipse (MD) at 10:00am and then take on the powerhouse FC Bucks (PA) at 4:00pm.
Other U23 women's teams participating in this year's regional field include the NJ Wildcats (NJ), Soccer Plus (CT) and the Delaware U23 Select Team from Dover (DE) which are among the favorites.
The Regional semi-finals will take place on Sunday, July 15 at 10:00am and the finals will kick-off at 2:30pm the same day.
The Boca U23 women's team is in the middle of their first season in Club history and participates in the Mid-Atlantic Summer Showcase League (MSSL).
Boca holds an overall MSSL record of 3-3-1 through games of Sunday July 8th.
TCNJ standout and Lakewood HS alum Erin Cunliffe leads Boca in scoring with 7 goals and 1 assist through 7 games followed by Centenary College's NSCAA All-Region player Tanya DiDonna (Colts Neck) with four goals and then Monmouth University's Brittani Heller (Newton) with 2 goals and 3 assists.
Former Brick HS star Emily Wagner is solid for Boca between the pipes playing in 5 games while only allowing 5 goals. Wagner, who started 20 games for Lock Haven University (PA) last season, has compiled a 2-2-1 record for Boca.
Leah Sachs of Montclair State University rounds out the Boca keepers with an overall record of 1-1-0 while allowing 2 goals in 2 games.
Jersey Shore Boca is participating in MSSL for the fourth consecutive year this summer as one of the league's inaugural founding members.
MSSL is a regional summer soccer league, which is specifically designed for collegiate players under the age of twenty-three and is fully sanctioned by the USASA.
The Jersey Shore Boca summer soccer program is officially sponsored by Surf Taco, a popular Mexican themed restaurant chain with six locations throughout the jersey shore.
Boca has been a fixture in the soccer community since 1978 and is one of the most respected soccer clubs on the East Coast.
The Club is celebrating their 29-year anniversary in 2007.
For more information about the Boca U23 teams and all other the Jersey Shore Boca programs logon to the Club's official web site at www.jerseyshoreboca.com
news