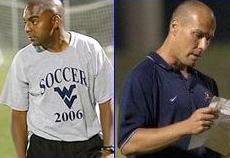 When the Cavaliers of Virginia University hosted their cross-border rivals Mountaineers of West Virginia University in men's college soccer action Tuesday night, these top nationally ranked college programs had one very special thing in common. The head coaches guiding both of these powerhouse teams are two Jersey Shore Boca alumni and former Club standouts.
Homegrown Teachers of the Game
Jersey Shore Boca alums Gelnovatch and LeBlanc square-off from the sidelines
CHARLOTTESVILLE, VA (September 19, 2006) – When the University of Virginia Cavaliers hosted the West Virginia University Mountaineers in men's college soccer action Tuesday night at Klockner Stadium, both of these top nationally ranked college programs had one very special thing in common. The head coaches guiding both of these powerhouse teams from both benches were two Jersey Shore Boca alumni and former Club standouts.
Marlon LeBlanc (East Windsor) who was appointed the new head men's soccer coach at West Virginia on August 9th after serving several years as the top assistant at Penn State, was a member of Boca youth teams for several years and also a part of the two-time Boca New Jersey State Cup Championship teams coached by Dave Ellis in the early-1990s.
Guiding Virginia for the 11th season this year is George Gelnovatch (Wall), head men's coach of the Cavaliers and one of the most recognized Jersey Shore Boca alumni in club history.
Gelnovatch, who also played several years in Boca's youth system during the mid-1980s under long-time Boca coach Walt Pericciuoli while attending Wall High School, has led Virginia to an overall record of 155-55-18, three ACC titles and nine NCAA Tournament appearances in his last 10 seasons as head coach.
Virginia entered Tuesday night's match undefeated and ranked #1 in the nation having allowed only 4 goals in 7 games while West Virginia, the #8 ranked team in the country, also has allowed only 4 goals in 8 games thus far this season.
And in typical Boca fashion, the game itself did not disappoint, a 2-1 overtime win for Gelnovatch and Virginia in front of 2,171 fans over his fellow-Boca alum LeBlanc and West Virginia, keeping the Cavaliers undefeated at 8-0-0 while the Mountaineers fell to 6-1-2 on the year.
LeBlanc will get a chance to square-off against some other fellow Jersey Shore Boca standouts this year as West Virginia hosts Seton Hall University including Justin McGrath (Brick) and Teddy Niziolek (Clifton) this Saturday Sept. 23 at 7pm.
West Virginia will also face Boca veteran goalkeeper Chris Konopka (Toms River) and Providence College on Oct. 21 at Providence.
McGrath, Niziolek and Konopka were members of the Boca U23 team this summer that advanced to the semi-finals of both the USASA U23 Regional Championship and MSSL Cup.
Over fifty Jersey Shore Boca standouts who previously played for the club on either their Men's, Super Y-League, PDL, Club or Youth teams, are participating in NCAA intercollegiate soccer this fall representing their respective institutions as players and coaches in some of the top college soccer programs in the nation.
They represent one of the highest numbers ever of Jersey Shore Boca players and coaches to participate in NCAA intercollegiate soccer during the same season in the Club's 28-year history.
Jersey Shore Boca has been a fixture in the soccer community since 1978 and is one of the oldest and most respected soccer clubs on the East Coast.
The Club is celebrating their 28-year anniversary in 2006.
For more information on the Jersey Shore Boca Soccer Club, log on to the Club's official web site at www.jerseyshoreboca.com
news