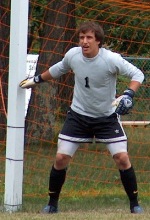 In the only two games played during the Holiday week, the Boca U16s returned to their winning ways while the Boca U19s dropped a tough match to Ironbound in which Rutgers University bound Boca U19 keeper Jake Weinberg fractured his collar-bone during the game and may be out for the rest of the SYL season, plus a look ahead in this week's edition of the Boca Soccer Wire.
One and One for the Holiday Week
Boca teams split SYL games during Holiday week light schedule
Boca Summer Soccer Wire for the week ended July 3, 2005
BOCA U23s – Mid-Atlantic Summer Showcase League (2-5-0):
Not in action this week
BOCA U20s – Mid-Atlantic Summer Showcase League (3-4-0):
Not in action this week
BOCA U19s – Super Y-League (0-4-0):
The Boca U19s traveled to Jersey City last Thursday and faced the Ironbound SC for their second meeting of the 2005 SYL season. Ironbound took the return visit 4-0. According to Coach Wolf Finger, the Boca U19s are playing very well against some strong quality opponents. However, they appear to be having a run of some bad luck. Boca GK Jake Weinberg fractured his collar-bone in the Ironbound and is not expected to return for the season. Meanwhile, the team's top mid-fielder Andrew Finger was shown a red card as will miss the U19s next SYL game. The team does get a bit of good news as sweeper John Corcoran returns to the line-up after injury for the U19s next SYL game.
BOCA U16s – Super Y-League (3-1-1):
The U16s got back on their winning ways as they topped the Parsippany Soccer Club 1-0 on Wednesday at Parsippany. Danny Verdel was credited with the game winning goal assisted by Kevin Melfi. Boca improves to 3-1-1 and retains fourth place in the SYL U16 Mid-Atlantic standings.
BOCA U15s – Super Y-League (0-4-0):
Not in action this week
BOCA U14s – Super Y-League (0-4-0):
Not in action this week
BOCA U13s – Super Y-League (0-3-0):
Not in action this week
THE PAST WEEK RESULTS:
Jun 29 at Parsippany, NJ
U16s – Boca 1 – Parsippany 0
Jun 30 at Jersey City, NJ
U19s – Boca 0 – Ironbound SC 4
THE WEEK AHEAD:
Jul 7 at Manchester, NJ
U19s – Boca vs. Metrostars – 6:00pm
Jul 9 at Harrisburg, PA
U15s – Boca vs. Super Nova – 12:00pm
U15s – Boca vs. Harrisburg – 4:30pm
Jul 9 at Westchester, NY
U19s – Boca vs. FC Westchester – 2:00pm
Jul 10 at Brooklyn, NY
U19s – Boca vs. Brooklyn Knights – 1:00pm
Jul 10 at Passaic, NJ
U16s – Boca vs. NJ Stallions – 4:00pm
Jul 10 at Harrisburg, PA
U14s – Boca vs. Harrisburg – 5:00pm
Jul 10 at Manchester, NJ
U23s – Boca vs. Iron Lakes – 10:30am
U20s – Boca vs. Cherry Hill – 12:00pm
U20s – Boca vs. Iron Lakes – 2:30pm
U23s – Boca vs. Cherry Hill – 4:00pm

news