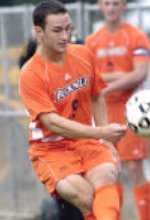 Jersey Shore Boca U23 standout Mark Schmeigel, a sophomore midfielder at Bucknell University netted his first goal of the 2006 season as the Bucknell men's soccer team defeated Navy 2-0 Saturday afternoon at Bucknell's Varsity Soccer Field and clinched a spot in the Patriot League Tournament.
Schmeigel Helps Bucknell Qualify For Tourney
Standout's first goal of season helps sink Navy to clinch PL spot
LEWISBURG, PA (October 28, 2006) – Jersey Shore Boca U23 standout Mark Schmeigel (Toms River), a sophomore midfielder at Bucknell University netted his first goal of the 2006 season in the 82nd minute as the Bucknell men's soccer team defeated Navy 2-0 Saturday afternoon at Bucknell's Varsity Soccer Field.
The Bison, who improved to 8-7-4 overall and 3-3-1 in league play, clinched a spot in the Patriot League Tournament for the third time in four years with the win.
Bucknell will be the fourth seed in the four-team Patriot League Tournament field next weekend at Lehigh University, which completed the regular season undefeated in league play and will be the opponent for the Bison in their semifinal match with kick-off at 7:30pm.
The two semifinal games will take place Friday, Nov. 3, while the championship game will be contested Sunday, Nov. 5.
With the victory, the Bison clinched at least a .500 record for the fourth time in five years for the first time since 1981-1985.
Schmeigel, a 2005 Toms River North graduate, has started in all 19 games for Bucknell this season tallying one goal and one assist.
He was a member of the Boca U23 team this past summer that advanced to the semi-finals of the USASA U23 Regional Championship as well as the semi-finals of the MSSL Cup Championship, netting two goals while assisting on 6 others in 16 games with the Boca U23 team.
Jersey Shore Boca has over fifty club standouts, including Schmeigel, who previously played for Boca on either their Men's, Super Y-League, PDL, Club or Youth teams that are participating in NCAA intercollegiate soccer in 2006 for their respective institutions across the Unites States either as players or coaches.
Jersey Shore Boca has been a fixture in the soccer community since 1978 and is one of the most respected soccer clubs on the East Coast.
The Club is celebrating their 28-year anniversary in 2006.
For more information on the Jersey Shore Boca Soccer Club, visit the Club's official web site at www.jerseyshoreboca.com
news