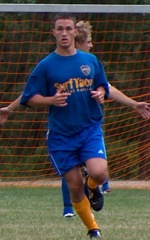 Jersey Shore Boca U23 standout midfielder Mark Schmiegel's shot from the left wing just over five minutes into overtime gave the Bucknell men's soccer team a 1-0 win over George Mason and its first NCAA Tournament victory since 1974 at George Mason Stadium Saturday afternoon. Schmiegel and Bucknell advance to the 2nd round to meet the University of Virginia, coached by Geroge Gelnovatch, one of the most recognized Boca alumni in Club history.
Schmiegel Leads Bucknell to NCAA Second Round
Boca standout's OT goal is second of season
FAIRFAX, VA – Jersey Shore Boca U23 standout midfielder Mark Schmiegel's (Toms River) shot from the left wing just over five minutes into overtime deflected off goalkeeper Michael Vallie and into an empty net to give the Bucknell men's soccer team a 1-0 win over George Mason, its first NCAA Tournament victory since 1974, on a sun-splashed field at George Mason Stadium Saturday afternoon.
The Bison, who were making their first NCAA appearance since 1976, will move on to the second round and face No. 4 Virginia Wednesday at 7 p.m. in Charlottesville, VA.
Virginia is coached by George Gelnovatch (Wall), one of the most recognized Boca alumni in Club history.
Schmiegel took a pass from Justin Wolf deep in the left corner, causing George Mason goalie Sean Kelley to shift.
The 2005 Toms River North graduate dribbled out of the corner slightly and lofted a shot from 12 yards out over Kelley's head. Vallie tried to head the ball away, but it instead deflected off him and into the empty net just five minutes, 16 seconds into the first overtime period.
Schmiegel's goal was the second of the year for the sophomore, while Wolf's assist tied him for second on the team with four.
The overtime victory was the first of the year for the Bison, who had been 0-0-6 when playing an overtime period.
Virginia, the fourth seed in the 48-team field and Bucknell's opponent Wednesday night, is 14-3-1 this year.
The Bison improved to 9-7-6, while George Mason ended its season 12-6-3.
Schmiegel was a member of the Boca U23 team this past summer that advanced to the semi-finals of the USASA U23 Regional Championship as well as the semi-finals of the MSSL Cup Championship, netting two goals while assisting on 6 others in 16 games with the Boca U23 team.
Jersey Shore Boca has over fifty club standouts, including Schmeigel, who previously played for Boca on either their Men's, Super Y-League, PDL, Club or Youth teams that are participating in NCAA intercollegiate soccer in 2006 for their respective institutions across the Unites States either as players or coaches.
Jersey Shore Boca has been a fixture in the soccer community since 1978 and is one of the most respected soccer clubs on the East Coast.
The Club is celebrating their 28-year anniversary in 2006.
For more information on the Jersey Shore Boca Soccer Club, visit the Club's official web site at www.jerseyshoreboca.com
news