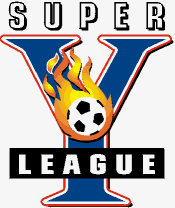 The second week of the Super Y-League season saw the Coach Tom Gentz and the Boca U16s begin their 2004 season in dramatic fashion while the Boca U19s lost in a well played match, both against cross-state rivals the South Jersey Barons.
The Boca Soccer Wire For The Week Ending May 16th
Boca teams go 1-1 for the week in SYL action against cross state rival
May 18, 2004
The second week of the Super Y-League season saw the Coach Tom Gentz and the Boca U16s begin their 2004 season in dramatic fashion while the Boca U19s lost in a well played match, both against cross-state rivals the South Jersey Barons.
BOCA U23s – Mid-Atlantic Summer Showcase League (0-0-0)
Not in action this week
BOCA U19s – Super Y-League (0-2-0):
The Boca U19 SYL team squared-off against the South Jersey Barons for the second time in seven days when Boca hosted their cross-state rivals in a Wednesday evening home match at the Manchester Soccer Complex. Although Boca tallied the first goal of the match, the Barons came back and put 2 in before the end of regulation. "I was happy with our team's work rate and effort tonight. We were in the entire game and did a much better job than in our previous meeting with the Barons a week ago. I think we can build upon this game and hopefully carry it into our next match" said Coach Wolf Finger. Next up for the Boca U19s will be a trip to visit the Parsippany Soccer Club on June 1st for a Tuesday evening match.
BOCA U16s – Super Y-League (1-0-0):
The Boca U16s also hosted the powerful South Jersey Barons U16 side on Wednesday evening at the Manchester Soccer Complex for their first Super Y-League game of the season that ended in dramatic fashion in favor of the host. Stanley Touze started the scoring for Boca with an assist from US U15 National Team player and fellow Hamilton NJ resident Joe Sorrentino. Jacobstown native Cliff Willever tabbed Boca's second goal after it bounced back off the crossbar into play from a shot from Sorrentino. Willever easily beat the Barons keeper for the score. The Boca U16s continued to poke holes in the Barons strong defense when shore local Kyle Altenau from Long Branch, headed the third goal in on a corner kick from Touze. Sorrentino scored Boca's final goal in regulation on a through ball from Touze. Boca's last goal of the match and the game winner occurred when Sorrentino was fouled in the box late in the overtime period. He converted the penalty kick to give the Boca U16s a 5-4 "golden goal" overtime win.
BOCA U15s – Super Y-League (0-0-0):
Not in action this week
BOCA U14s (girls) – Super Y-League (0-0-0):
Not in action this week
BOCA U14s – Super Y-League (1-0-0):
Not in action this week
BOCA U13s – Super Y-League (0-1-0):
Not in action this week
THE PAST WEEK RESULTS:
May 12 at Home (Manchester Soccer Complex)
U19s – Boca 1 – South Jersey Barons 2
U16s – Boca 5 – South Jersey Barons 4 (OT)
THE WEEK AHEAD:
May 17 at Winslow Township (NJ)
U16s – Boca vs. South Jersey Barons-6:00pm
May 23 at Mullica Hill (NJ)
U23s – Boca vs. South Jersey USASA Select (exhibition)-5:30pm
news