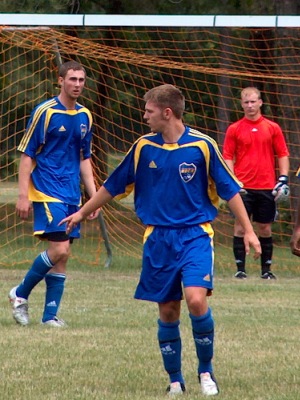 The Jersey Shore Boca U19 Super Y-League team picked-up their first win of the 2005 SYL season on Sunday afternoon at the historic Metropolitan Oval in New York as they topped the Brooklyn Knights 3-1 in a U19 Northeast Conference Metro Division match-up. Boca also dropped a 3-2 SYL heartbreaker to FC Westchester on Saturday.
U19s Capture First SYL Win at Brooklyn
Team looses heartbreaker 3-2 on Saturday against FC Westchester
BROOKLYN, NY (July 11, 2005) – The Jersey Shore Boca U19 Super Y-League team picked-up their first win of the 2005 SYL season on Sunday afternoon at the historic Metropolitan Oval in New York as they topped the Brooklyn Knights 3-1 in a U19 Northeast Conference Metro Division match-up.
Boca mid-fielder Andrew Finger, who will attend Neumann College in September, tallied the first goal of the game for the U19s as he finished a through ball from Matt Cascone.
The U19s picked-up another goal on a sprint up the right side by Daniel Featherer into the box were he ripped the eventual game winner into the left lower corner making the score 2-0 in Boca's favor.
After Brooklyn picked-up their only goal of the game, the U19s mounted another good attack started by College of New Jersey bound Chris Nelan to a trailing Cascone who, from 20 yards out, placed a shot by the Knights keeper to make final 3-1.
Boca defenders Sean Babcock and John Corcoran who are headed to West Chester University and St. Joseph's University respectively, along with the rest of the Boca defensive corps did an excellent job in the back for Boca according to Boca U19 coach Wolf Finger.
"Before our game against Brooklyn, I told the players that they could win this game if they played with the same intensity as they did the day before against FC Westchester. They gave everything they had in the 90 degree heat with an outstanding effort to take this one" mentioned Coach Finger.
On Saturday after being down 3-0 at halftime against FC Westchester at SUNY Purchase, the Boca U19s battled back to score two goals in the second half.
In the second half, Boca's AJ Serette fought to win the ball up front just outside the box and found Eric Bell who placed the ball low into the right lower corner of the net past the Westchester keeper.
Boca's second goal came from Sean Podorsky who one timed a shot from the edge of the penalty which had the Westchester goalkeeper staining still.
Although Boca had momentum and other scoring opportunities, they could not score the equalizer as the match ended 3-2.
With the split, the Boca U19s improve to 1-4-0 on the season.
Jersey Shore Boca has five boys teams in the SYL this year; U13s, U14s, U15s, U16s along with the U19s.
All of Boca's 2005 SYL teams, with the exceptions of the U-19 team, compete in the historically tough Mid-Atlantic Division in the Northeast Conference.
Boca has been a fixture in the soccer community since 1978 and is one of the most respected soccer clubs on the East Coast.
The Club is celebrating their 27-year anniversary in 2005.
For more information about the Boca U19 team and all other the Jersey Shore Boca programs visit the Club's official web site at www.jerseyshoreboca.com
news