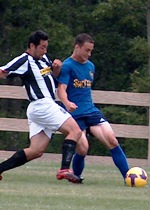 Boca veteran mid-fielder Mark Schmiegel moves past a Milmay defender on his way to a left-side service in first half MSSL action on Sunday morning. The Boca U23 men's team split a pair of regular season games at the John Patrick Sports Complex in Lakewood capturing a win over Milmay while losing their first game of the season to Hoboken in a weather shortened match.
U23 Men Split Games
Boca tops Milmay FC but falls to Hoboken in weather shortened match
LAKEWOOD, NJ (June 16, 2008) – The Jersey Shore Boca U23 men's team split a pair of regular season games in the Mid-Atlantic Summer Showcase League (MSSL) last Sunday afternoon at the John Patrick Sports Complex in Lakewood capturing a 2-0 win over Milmay FC from Vineland while losing their first game of the season to Hoboken SC 1-0 in a weather shortened match.
Boca goals against Milmay came unassisted from James Gannon (Toms River) during the first half and by Tim Logan (Spotswood) assisted by Andrew Finger (Mullica Hill) in the second stanza.
In their second game against Hoboken SC, after conceding a goal in fourteenth minute, the Boca men could not capitalize to draw equal on the various scoring chances they created during the first half.
As the second half began, the match was stopped by the referees because of the severe weather moving through the Lakewood area with the official result standing 1-0 in favor of Hoboken.
Charles Cunliffe (Lakewood) was between the pipes for Boca for both games.
With the split on Sunday, Boca moves down to third place in the current MSSL league standings with an overall record of 4-1-1 and 13 points.
The U23 men return to regular league action on Sunday when they travel to Rider University in Lawrenceville to take on second place holders Hillsborough SC and also the Den of Lions SC from North Jersey.
The Jersey Shore Boca summer soccer program is officially sponsored by Surf Taco, a popular Mexican themed restaurant chain with seven locations throughout the jersey shore.
The Jersey Shore Boca Soccer Club has been a fixture in the soccer community since 1978 and is one of the most respected soccer clubs on the East Coast.
The Club is celebrating their 30-year anniversary in 2008.
For more information about all Jersey Shore Boca programs visit the Club's official web site at www.jerseyshoreboca.com
news