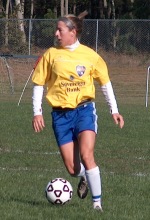 The Jersey Shore Boca women's open team will be in search of some silverware next week as the ladies of blue and gold square-off against the Peninsula Aztecs in the NJSA Women's Open Cup finals on Tuesday June 15 on the artificial turf at Sabella Park in North Brunswick. The NJSA Women's Open Cup final match is scheduled to kick-off at 8pm and is open to the general public with free admission.
A Chance For Silverware
Boca women headed to NJSA Open Cup Final
LAKEWOOD, NJ (June 5, 2010) – The Jersey Shore Boca women's open team will be in search of some silverware next week as the ladies of blue and gold square-off against the Peninsula Aztecs in the New Jersey Soccer Association (NJSA) Women's Open Cup finals on Tuesday June 15 on the artificial turf at Sabella Park in North Brunswick.
The Boca women head to the 2010 NJSA Women's Open Cup final in dramatic fashion after drawing 1-1 through regulation and overtime back on May 14 with the NJ Lions of Trenton in the semi-finals and then advancing on FIFA penalty kicks which favored Boca 4 to 3.
Tara Crowley (Wall), a senior at Wall High School who will begin her freshman year at Gettysburg College in September, tallied Boca's only goal of the semi-final match.
Sarah Van Curen (Marlboro) was solid between the pipes for the Boca women as the former Freehold Township and Monmouth University standout made a critical penalty kick save during the shootout phase.
In their quarter-final round played last November, Boca topped the Philadelphia Flames 5-2 to advance to the semi-finals.
The 2010 NJSA Women's Open Cup final match is scheduled to kick-off at 8pm and is open to the general public with free admission.
Kristen Kowit (Lakewood), a two-time All-American and two-time Old Dominion Athletic Conference "Player of the Year" during her college career at Lynchburg College is a player-coach for the Boca women's open team.
Jersey Shore Boca has been a fixture in the soccer community since 1978 and is one of the most respected soccer clubs on the East Coast.
The Club is celebrating their 32-year anniversary in 2010.
For more information on the Jersey Shore Boca Soccer Club visit the Club's official web site at www.jerseyshoreboca.com
news