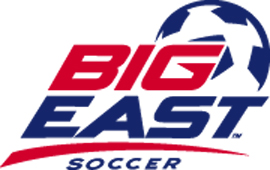 When the 2006 BIG EAST men's soccer championship tournament resumes on Friday afternoon at Yurack Field on the campus of Rutgers University with the two semi-final games, there is only one thing guaranteed about the outcome of the tournament…..at least one former Jersey Shore Boca club standout will be crowned a 2006 BIG EAST men's soccer champion when the tournament concludes on Sunday.
A Jersey Sure Thing
One former Jersey Shore Boca standout will capture the 2006 BIG EAST men's soccer championship…..Guaranteed
PISCATAWAY, NJ (October 30, 2006) – When the 2006 BIG EAST men's soccer championship tournament resumes on Friday afternoon at Yurack Field on the campus of Rutgers University with the two semi-final games, there is only one thing guaranteed about the outcome of the tournament…..at least one former Jersey Shore Boca club standout will be crowned a 2006 BIG EAST men's soccer champion when the tournament concludes on Sunday.
Marlon LeBlanc (East Windsor), head men's coach of West Virginia University, Chris Konopka (Toms River), senior goalkeeper from Providence College, Jara Habib (Englishtown), sophomore forward from St. Johns University, Joey Sorrentino (Hamilton), freshman forward from Rutgers University and Jake Weinberg (Highland Park) freshman goalkeeper also from Rutgers University, all former Jersey Shore Boca club standouts, will all vie for the BIG EAST men's soccer championship this weekend.
In Friday's first semi-final match, Providence will square-off against St. Johns at 3:00 pm followed by West Virginia battling Rutgers at 5:30 pm. Both games will be broadcast live on CSTV. The winners of the semi-finals will meet on Sunday at 12 noon for the BIG EAST championship and an automatic bid into the 2006 NCAA men's soccer tournament.
LeBlanc, who was part of the Boca two-time NJ State Cup Champion teams of the 1990s, is in his first year as head coach of the Mountaineers and has guided them to an overall record of 15-1-2 and a top five national ranking in the four major men's NCAA Division I soccer polls.
West Virginia finished the BIG EAST regular season at 9-0-1, their best ever in school history.
Konopka, a long time Jersey Shore Boca veteran and 2003 Toms River East graduate, has re-written the Providence College records books during his four years between the Friar pipes. This season, he has guided Providence to an overall record of 13-5-0 and one of their best years in men's soccer history.
The Friars are one win shy of tying a school record for most overall wins (14) set during the 1984 season.
The standout keeper has established numerous school and individual records during 2006 including winning seven BIG EAST regular season conference games, the most ever in school history.
Konopka is also the first and only goalkeeper in Providence College soccer history to ever appear in three BIG EAST Championship Tournaments, 2003, 2005 and 2006, helping the Friars advance to the semi-finals each year.
The Tons River native however, is listed as questionable for the Friars semi-final match against St. John's on Friday due to a concussion he suffered in a 2-0 win against Louisville on Oct. 25 in the first round of the BIG EAST tournament.
Konopka did not play in Providence's 2-0 win over Cincinnati last Saturday in the BIG EAST quarter-finals and is hoping to return for the semi-final game against St. John's.
Providence is currently ranked 23rd in the nation among Division I men's teams in the latest Soccer America poll and 24th in the College Soccer News weekly poll.
Habib, who played for Boca's Super Y-League teams for several years earlier in his career, has started in 11 of 18 games for the Red Storm this year.
The 2005 Marlboro High School graduate has tallied 2 goals and 3 assists on the season for St. John's who own an overall record of 11-5-2.
Sorrentino, who led Boca's U15 Super-Y League team to a Mid-Atlantic Divisional Championship in 2004 and appearance in the SYL National Finals the same year, has seen action in 14 games for the Scarlet Knights this year recording one assist while Weinberg has appeared in one game for Rutgers.
Jersey Shore Boca has over fifty club standouts, including LeBlanc, Konopka Habib, Sorrentino and Weinberg, who previously played for Boca on either their Men's, Super Y-League, PDL, Club or Youth teams that are participating in NCAA intercollegiate soccer in 2006 for their respective institutions across the Unites States either as players or coaches.
Jersey Shore Boca has been a fixture in the soccer community since 1978 and is one of the most respected soccer clubs on the East Coast.
The Club is celebrating their 28-year anniversary in 2006.
For more information on the Jersey Shore Boca Soccer Club, visit the Club's official web site at www.jerseyshoreboca.com
news