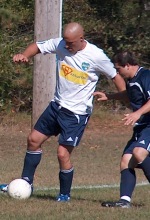 Tomas Banionis led the Boca men's open team with 3 goals against Pan America Sporting FC of Elizabeth in a 5-1 rout in the GSSL Cup semi-finals which helped booked their place in the League Cup Championship. The GSSL League Cup final will be held on Sunday June 22 at the Manalapan Recreation Complex with kick-off scheduled at 12 noon.
A Second Chance For Silverware
Boca men headed to GSSL League Cup Final
ELIZABETH, NJ (June 18, 2008) – The Jersey Shore Boca men's open team advanced to the Garden State Soccer League Cup finals last Sunday when they defeated Pan America Sporting FC of Elizabeth 5-1 in a GSSL Cup semi-final match to book their spot in the Cup championship.
The GSSL League Cup final will be held on Sunday June 22 at the Manalapan Recreation Complex with kick-off scheduled at 12 noon.
This will be the second time in less than two weeks that the Boca men have a chance to claim some end-of-season hardware as they were narrowly defeated 2-1 by the Newark Enforcers in their vie for the NJ State Open Cup crown last Wednesday night in Manalapan.
Lithuanian born Tomas Banionis of Berkeley Township paced Boca against Pan American with three goals while York College graduate Jason Mancuso (Toms River) and former Brick Memorial standout Justin Fuccello (Brick) added one strike each.
Pan American ended Boca's season one year ago in the same round of the League Cup.
The GSSL League Cup Finals are open to the public with free admission.
Jersey Shore Boca has been a fixture in the soccer community since 1978 and is one of the most respected soccer clubs on the East Coast.
The Club is celebrating their 30-year anniversary in 2008.
For more information on the Jersey Shore Boca Soccer Club visit the Club's official web site at www.jerseyshoreboca.com
news