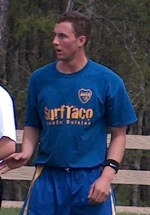 Boca Defender Sean Podorsky and the U23 men's team were not expecting to be traveling to Eastern PA this weekend to compete in the 2007 United States Adult Soccer Association U23 Regional Championships, but a phone call received Wednesday evening changed their plans. Boca will now be part of the 16 team field at the Regionals starting Saturday at the Ukraine Nationals Club in Horsham, PA.
A Second Chance
Boca U23 men invited to play in USASA U23 Regional Championships
LAKEWOOD, NJ (July 12, 2007) – The Jersey Shore Boca U23 men's team was not expecting to be traveling to Eastern Pennsylvania this weekend to compete in the 2007 United States Adult Soccer Association (USASA) U23 Regional Championships, but a phone call received Wednesday evening changed their plans.
Alex Tsalagas, the USASA Regional Games Commissioner broke the news to Boca after he was informed that the DC/Virginia U23 entry withdrew from the Regional competition.
Boca, which failed to qualify automatically for this year's Regional Championships within their Mid-Atlantic Summer Showcase League (MSSL) regular season play through games of last Sunday, was determined by the USASA to be the next most competitive team in the Region and received the invite.
The 2007 USASA U23 Regional Championships are being held this Saturday and Sunday at the Ukraine Nationals Club in Horsham, PA.
Boca now returns to the USASA U23 Regional Championships for a second straight year as the team went undefeated during their initial round games in 2006 before falling 1-0 to powerhouse FC Delco (PA) in the semi-finals.
Boca will be one of sixteen men's teams participating in this year's Regional Championships with the winner heading to Seattle, WA from August 3rd through 5th and a spot in the U23 USASA National Championships.
This year's U23 men's Regional Championship field consists of some of the top U23 men's team's in the nation including last year's U23 Regional Champions, the Baltimore Bays (MD) as well as FC Delco (PA), Kearny Scots (NJ), Maryland Ambassadors (MD) and Hellas United (MA) among others.
After initial round play, the Regional Championship semi-finals will take place on Sunday, July 15 at 10:00am and the finals will kick-off at 2:30pm the same day.
Boca (4-3-4) currently sits tied for 4th place in the MSSL men's standings through last Sunday with 16 overall points. The team has scored 30 goals while allowing 21.
A duo of former Toms River HS North standouts lead Boca in scoring with Jason Mancuso tallying 15 goals and 7 assists in 11 games while Mark Schmiegel has struck for 2 goals while assisting on six others playing in 9 games.
Mancuso will attend York College of Pennsylvania this fall with one year of NCAA eligibility remaining while Schmiegel returns to Bucknell University for his junior season in September.
Seton Hall University's rising senior and All-American candidate Justin Mc Grath (Brick) follows next in scoring for Boca with 3 goals and 3 assists.
The Boca U23 GK crew this season includes Brett Axelrod (Union), Jon-Curry Edwards (Spring Lake Heights), Justin Fuccello (Brick) and recent Lakewood HS graduate Charlie Cunliffe, who will vie for the starting keeper spot at Rowan University as a freshman this year.
Jersey Shore Boca is participating in MSSL for the fourth consecutive year this summer as one of the league's inaugural founding members.
MSSL is a regional summer soccer league, which is specifically designed for collegiate players under the age of twenty-three and is fully sanctioned by the USASA.
The Jersey Shore Boca summer soccer program is officially sponsored by Surf Taco, a popular Mexican themed restaurant chain with six locations throughout the jersey shore.
Boca has been a fixture in the soccer community since 1978 and is one of the most respected soccer clubs on the East Coast.
The Club is celebrating their 29-year anniversary in 2007.
For more information about the Boca U23 teams and all other the Jersey Shore Boca programs logon to the Club's official web site at www.jerseyshoreboca.com
news