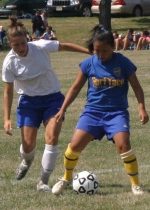 When you take a look at the overall win-loss records of the Jersey Shore Boca U23 men's and women's teams for the summer of 2007, one may perceive that each squad finished the year with an average performance landing in the middle of the final Mid-Atlantic Summer Showcase League (MSSL) standings when the season ended at the end of July. However, that perception is quite the contrary.
A Successful Summer Season
Jersey Shore Boca U23 summer soccer program for 2007 was filled with club, team and individual accomplishments
TOMS RIVER, NJ (August 10, 2007) – When you take a look at the overall win-loss records of the Jersey Shore Boca U23 men's and women's teams for the summer of 2007, one may perceive that each squad finished the year with an average performance landing in the middle of the final Mid-Atlantic Summer Showcase League (MSSL) standings when the season ended at the end of July.
However, that perception is quite the contrary.
The Jersey Shore Boca U23 program for 2007 finished this summer season with numerous club, team and individual accomplishments that will now be a program benchmark for future years to come in addition to continuing to provide a highly competitive soccer environment for college age players in the shore area.
The Boca women who began their inaugural year together this summer, ended with an overall record of 4-6-2 which included seven MSSL regular season games, three MSSL Championship Cup games and two games in the United States Adult Soccer Association (USASA) U23 Regional Tournament.
The team, which was coached by long-time local soccer advocate Charles Cunliffe, scored 19 goals while giving up 12, recorded 5 shut-outs and finished in fifth place out of ten teams in the league standings during the MSSL regular season.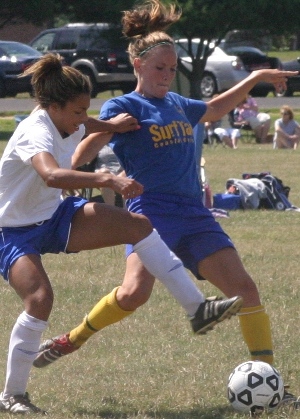 Team highlights for the ladies of "Blue and Gold" during their first season of competing together included a 6-0 trashing of Hackettstown FC on June 10 recording their first ever win in program history; a bitter-sweet 1-0 loss to the Bethesda Soccer Club (MD), the eventual U23 USASA Regional Champion during initial round play at the USASA Regional Tournament; a 1-0 upset win over the highly favored NJ Wildcats on July 22 in a MSSL Cup preliminary round game and advancing to the women's MSSL Cup Championship game the same day only to be handed a tough 1-0 loss by the Middlepath SC (NY).
Erin Cunliffe (Lakewood) led the Boca women in scoring this summer with 7 goals and 2 assists (16 points) followed by Tanya DiDonna (Colts Neck) with four goals (8 points), Brittani Heller (Newton) with 2 goals and four assists (8 points) and Jessica Fuccello (Brick) with two goals (4 points).
Fuccello, the 2006 University of Pennsylvania's women's scoring leader and Second-team All-Ivy selection as a freshman, joined the Boca women mid-way through the summer.
Cunliffe, who will be a junior at TCNJ this fall, DiDonna, a NSCAA All-Region selection from Centenary College last year and Fuccello along with Dominican College standout Nicole Tatulli (Brick) tallied Boca's four game winning goals for the season.
Loch Haven University standout Emily Wagner (Brick) and Leah Sachs of Montclair State University patrolled between the pipes for Boca finishing with a 1.0 GAA.
Wagner recorded an individual record of 3-4-2 with four shut-outs while allowing 9 goals and Sachs finished the season at 1-2-0, three shut-outs and 3 goals against her.
"Considering this was the first time ever in the history of our Club that a women's college age team took the field wearing the Boca strip and colors, their results and accomplishments were nothing less than extraordinary" mentioned Walt Konopka, who directs the overall Boca U23 summer program.
"Our women's team had a very good group of competitive players who jelled well together as the summer progressed. They faced some of the top college soccer players from around the Northeast during league play and at the regionals and faired very well against them. This is a season for the Club record books. The team is already excited about next year" Konopka finished.
Although finishing with an overall record of just 5-5-6, the Boca U23 men's team also had their share of team and individual accomplishments during the 2007 summer season.
The Boca men, who were coached by former Neumann College (PA) assistant coach Wolf Finger, scored a league-leading 32 goals, allowed 26 against them and recorded 4 shut-outs while ending the regular MSSL season in fourth place within a division of fourteen teams.
The men's team highlights this summer included being invited to participate in the USASA U23 Regional Tournament for a second consecutive year; a scoreless tie against national powerhouse FC Delco (PA) on July 14 while at the USASA tournament and advancing to the men's MSSL Cup Championship game on July 22 at Ft. Dix for the first time since the team began play within the league four years ago.
It also marked the first time in MSSL league history that a men's and women's team from the same soccer club advanced to the MSSL Cup Championship games.
Jason Mancuso (Toms River) had a record-setting summer for the Boca men leading the team in scoring with 16 goals and 8 assists (40 points) followed by Mark Schmiegel (Toms River) with 3 goals and 6 assists (12 points) and Justin McGrath (Brick) with 3 goals and 3 assists (9 points).
Mancuso, who will begin his final year of NCAA eligibility at York College (PA) this fall, tallied 2 game winning goals for Boca while Bucknell University's Schmiegel, Seton Hall's McGrath and Richard Stockton College's Butch Huff (Toms River) connected for one game winner each.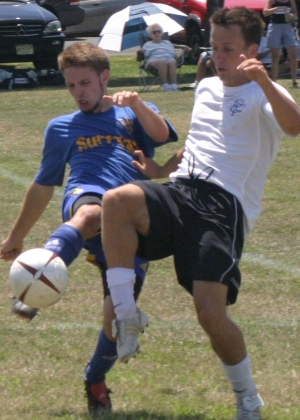 Recent Lakewood High School graduate Charlie Cunliffe, who gained some valuable experience with the Boca U23 men between the pipes this summer, played in 7 games, including all 3 games in the MSSL Cup Championships, recorded 2 shutouts and finished the season with a 2-3-2 overall record.
The men's goalkeeping corps this season also included Brett Axelrod (3 games), University of Delaware's Jon Curry-Edwards (2 games) and Rutgers graduate Justin Fuccello (4 games) and when combined with Cunliffe, averaged a 1.63 goals against average for the summer over 16 games.
Cunliffe, a long-time member of Boca youth teams earlier in his career, will vie for time between the pipes this September as a freshman joining Boca U23 teammate Andrew Finger (Mullica Hill), when he begins his college career at Rowan University.
"Our men's team had a difficult act to follow this year after last summer's group that included two Major League Soccer draftees on the roster and finished with an overall record of 16-5-1, but they showed they were up to the task. Their perseverance throughout this summer got them to into the MSSL Cup finals for the first time in history. Their team and individual accomplishments this season, although seen as modest by some, are outstanding" Konopka commented about the Boca men.
Jersey Shore Boca participated in MSSL for the fourth consecutive year this summer as one of the league's inaugural founding members.
"I feel our Club has made great strides this summer with our U23 program. The formation of our first women's college age team and both our men and women advancing to the MSSL Cup finals highlight the on-field accomplishments. Surf Taco, our program sponsor, made a commitment to us for the third consecutive year in a row which shows how valuable our program has become within the local business community and we thank them immensely for their support" Konopka added.
Surf Taco, a popular Mexican themed restaurant chain has six locations throughout the jersey shore area.
"On behalf of all our directors, coaches, players and club members, I would like to congratulate our men's and women's teams for a very successful summer season. We are all very proud of their accomplishments this summer" Konopka concluded.
Jersey Shore Boca has been a fixture in the soccer community since 1978 and is one of the most respected soccer clubs on the East Coast.
The Club will celebrate their 30th year anniversary in 2008.
For more information about the Boca U23 teams and all other the Jersey Shore Boca programs logon to the Club's official web site at www.jerseyshoreboca.com
news