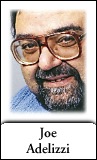 As you read this the Jersey Shore Boca Under-17 soccer team should be setting down in Buenos Aires, Argentina, for an Easter vacation that's far from ordinary writes Joe Adelizzi, the award winning staff writer from the Asbury Park Press in his feature story published April 19, 2003.
A unique soccer sojourn
Published in the Asbury Park Press 4/19/03
Jersey Shore Boca team heads south to Buenos Aires
As you read this the Jersey Shore Boca Under-17 soccer team should be setting down in Buenos Aires, Argentina, for an Easter vacation that's far from ordinary.
"We should land about 9 a.m. our time on Saturday," said coach Bill Carroll, days before the team departed Friday evening.
"This will be the first international trip for this group of players. I am excited to have them experience the rich soccer history in an environment that will allow them to actually live the history."
While in Argentina, the Boca U17s have a full itinerary planned that includes daily training with the full adult Boca Juniors team, several friendly matches, a tour of the historic "La Bombonera" Stadium and attendance at two Boca Juniors games.
"The opportunity to train and meet the up-and-coming Boca Jr. stars, and to also train and partake in the full adult team's training sessions, will be an opportunity these kids will not soon forget," Carroll said.
The 11-day stay has been paid for by each of the players.
"It cost them $2,000 each," said Carroll.
Of course, like any group trip these days the current world atmosphere was on the club's mind.
"We were worried about the war," said Carroll. "We met with the parents, bought flight insurance and let each player decide if they still wanted to go. Every one of them said they wanted to make the trip."
Carroll, who holds a United States Soccer Federation "B" coaching license, has been the Boca U17 head coach for several years. He is a 1983 graduate of Rutgers University and lives in Ship Bottom.
"I've been on trips like this as a player," he said. "But this is the first time these boys will experience anything like this international play."
The Jersey Shore Boca Player and Team Development Tour was organized by the International Academy of New York with help from David Vaudreuil, the new head coach of Jersey Shore Boca's Premier Development League team.
"I am sure the guys will not regret the trip to Argentina. I have been coached by two players from Boca Juniors during the time of Maradona. You immediately understand the privilege it is to be associated with that club," said Vaudreuil. "The world class standard of play and the rich tradition will make for an unforgettable experience."
The team is hoping their trip will benefit them in preparation for their 2003 Super Y-League season, which will begin May 17, just a few weeks after the team's return on April 28.
"This is a tremendous opportunity for our players to experience an atmosphere unlike anything else. They will be training with, and playing against, some of the best soccer talent in the world," said Al Schwartz, president of Jersey Shore Boca, who will be among the travel party for the trip. "We hope this can develop into a longer-term relationship and eventually enter into a youth player exchange program with them. Some groundwork has already been made and I'm going to try and finalize some items while I'm there."
Members of the team who will be making the Argentina trip include: Colin Jennings, Wall High School; Kyle Zupancic, Middletown North; Nick Raspanti, Middletown North; Rob Galante, Sayreville; Eric Hostnik, Burton Academy; Phil Kaiser, Manalapan; Gregg Arenson, Manalapan; Scott Gross, Manalapan; Patrick Gee, St. Rose; David Nicholson, Allentown; David Novak, Hightstown; Chris Zullo, Hightstown; and Jara Habib, Marlboro.
Joe Adelizzi is an Asbury Park Press staff writer.
news