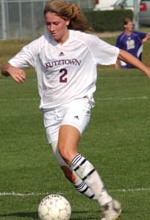 Jersey Shore Boca U23 member Jen Pyne scored the eventual game-winner on a corner while another Boca U23 standout Jen Tice, added an assist as both helped lead the Kutztown University women's soccer team, coached by Boca alum Erik Burstein, over Lock Haven University 3-2 in a Pennsylvania State Athletic Conference crossover on Saturday.
All In The Boca Family
U23 standouts Pyne and Tice push alum Burstein's Kutztown to third straight win
LOCK HAVEN, PA (September 20, 2008) – Jersey Shore Boca U23 members Jen Pyne (Wall), who scored the eventual game-winner on a corner and Jen Tice (Barnegat), who added an assist, helped lead the Kutztown University women's soccer team over Lock Haven University 3-2 in a Pennsylvania State Athletic Conference crossover on Saturday.
Raven Chiara and Chelsea Bressler also had goals for the Golden Bears (3-3-1), who have now won three straight games.
"We are on a great run at the moment," KU head coach Erik Burstein said. "We need to continue staying focused and make sure we continue to compete. I'm proud of them."
Burstein, who is in his second year at the helm at KU, is a long-time Jersey Shore Boca alum and played for the club during his youth and high school career.
He was also a two-time member of Boca's New Jersey State Cup championship teams of 1992 and 1994 and a former assistant coach of Boca's PDL side in 2003.
Chiara opened the scoring in the 18th minute, taking a pass from another Boca U23 standout Jen Tice (Barnegat) making it 1-0.
Lock Haven (4-4-0) bounced back eight minutes later, tying the game at 1 with a goal from Arielle Gordon.
Bressler gave the Golden Bears the lead for good shortly after that, scoring in the 30th minute, an unassisted goal making it 2-1.
Pyne's goal to the far post, upper corner on a corner made it 3-1 at 56:33 mark.
Lock Haven scored five minutes later to cut KU's lead to one, but the Golden Bears' defense, led by keeper Steph Addleman kept the Eagles off the board for the remainder of the game. Addleman recorded six saves in the contest.
KU outshot Lock Haven 17-13 and each team had seven corner opportunities.
"This game came down to the wire and it took a really strong defensive effort in the late stages to secure the win," Burstein said. "We played very well tonight on both sides of the ball."
The Golden Bears will return home for a PSAC East contest at 4 p.m. Tuesday at Keystone Field against Mansfield.
Pyne and Tice along with KU's Trystin Figel (Middlesex) and Kelly Bushe (Neptune) were members of the Boca U23 women's team this past summer which advanced to the USASA U23 Regional Tournament for the second consecutive season.
Boca has been a fixture in the soccer community since 1978 and is one of the most respected soccer clubs on the East Coast.
The Club is celebrating their 30-year anniversary in 2008.
For more information about the Boca U23 teams and all other the Jersey Shore Boca programs logon to the Club's official web site at www.jerseyshoreboca.com
news