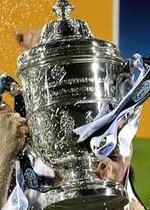 At Tallaght Stadium in Dublin on Sunday November 22, Jersey Shore Boca alum Chris Konopka and Sporting Fingal FC capped their season in dramatic fashion with a 2-1 win over the Sligo Rovers to claim the 2009 FAI Cup. Konopka, who was a long-time Boca veteran throughout his youth and college career, wins his second back-to-back FAI Cup medal in two straight years.
Back-To-Back Silverware
Jersey Shore Boca alum wins FAI Cup medal for second straight year
DUBLIN, Ireland-(November 30, 2009) – In all of professional sport at the highest of levels, thousands of athletes worldwide can only dream about that once in a lifetime chance of possibly capturing some type of individual medal, trophy or honor, or winning a division championship, league title, Super Bowl, World Series or even a World Cup with their team.
However, former Jersey Shore Boca standout and Toms River native Chris Konopka has seen that dream become a reality not once, but twice, during his young professional soccer career which began only three years ago.
On November 22, in front of a capacity crowd at windswept Tallaght Stadium in Dublin, Konopka and League of Ireland first division side Sporting Fingal FC capped their 2009 fairy-tail season in dramatic fashion with a 2-1 come from behind win over premiere division opponents Sligo Rovers to claim this year's prestigious Football Association of Ireland (FAI) Cup Championship.
The FAI Cup victory came on the heels of Sporting's promotion to the LOI top flight after finishing the regular season in third place in the first division and then advancing with play-off victories over local rivals Shelbourne and Bray Wanderers.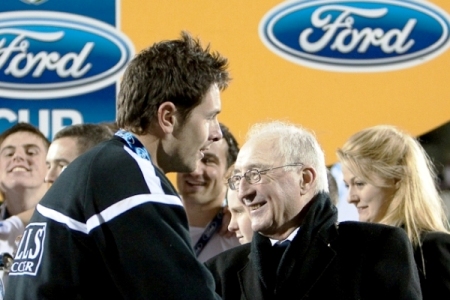 Jersey Shore Boca alum Konopka receives his FAI Cup individual medal from FAI President David Blood in Dublin on November 22 after winning the 2009 FAI Cup with Sporting Fingal FC.(Photo courtesy Paul Walsh Photography-Dublin-Ireland).
Sporting Fingal's jubilant manager Liam Buckley sang the praises of his entire squad, not just the 11 who played against Sligo in the Cup victory.
"People are always talking about the likes of Alan Kirby, Gary O'Neill, Stephen Paisley and Eamon Zayed, but there are an awful lot of unsung heroes at this club."
"There's 22 or so in the squad and every single one of them has played their part in the club's success this season. They're a great bunch with loads of talent" the Fingal gaffer finished.
The 24 year-old Konopka, who was on the bench for the FAI Cup final, started between the pipes in 8 full games for Fingal this season (4 games with the reserves and 4 games with the first team) including a 4-2 win over Bray Wanderers on October 25 in the semi-final round of the FAI Cup.
He signed with Sporting Fingal during the July transfer window and made his first team league debut against Monaghan United on October 2 posting a 2-2 tie.
Konopka, who wins his second FAI Cup medal in as many attempts, spent last year with Bohemians in Dublin, winning two pieces of silverware with the 2008 League of Ireland Premiere Division and FAI Cup champions.
It is believed that Konopka was the first American born soccer player in history to ever win the "Irish Double" when he did so with the Gypsies last year.
And now the former Boca shot-stopper adds his name to the Irish records books again as the first American player ever to receive back-to-back FAI Cup medals.
"The entire squad is a great group of guys. During a match or in training, they were a down-to-business, blue collar, hard working bunch both on and off the pitch who never said quit and everyone gave 100% all of the time. That no-quit attitude paid-off. I am thrilled that I was able to contribute to this incredible run and accomplishment" mentioned Konopka.
The 6' 5" keeper spent his first professional season in 2007 with the Kansas City Wizards of Major League Soccer.
At the collegiate level, Konopka starred for four years (2003-2006) between the pipes at Providence College in Rhode Island and finished as one of the top goalkeepers in Friar history.
A long-time Jersey Shore Boca Soccer Club veteran, Konopka was a member of Boca's youth system, Super Y-League, U20 and U23 teams throughout his career as well as a member of Boca's Premiere Development League team in 2003.
Konopka is a 2003 graduate of Toms River East High School.
The Jersey Shore Boca Soccer Club has been a fixture in the soccer community since 1978 and is one of the oldest and most respected soccer clubs on the East Coast.
Boca is celebrating their 31-year anniversary in 2009.
For more information on the Jersey Shore Boca Soccer Club, visit the Club's official web site at www.jerseyshoreboca.com
news