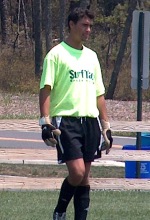 Some belated congratulations are in order for Jersey Shore Boca U23 shot-stopper Charlie Cunliffe as the NCAA announced in late March that the Rowan University senior goalkeeper and Boca standout was awarded a NCAA postgraduate scholarship. Cunliffe has been a member of the Boca U23 program for the past five years and is also a veteran of several Boca youth teams during his career.
Belated Congratulations Due To Cunliffe
Boca U23 goalkeeper tabs NCAA postgraduate scholarship
INDIANAPOLIS (IN)-The NCAA announced in late March that standout Jersey Shore Boca shot-stopper and Rowan University senior goalkeeper Charlie Cunliffe was selected to receive a NCAA postgraduate scholarship.
The scholarship, totaling $7,500, was awarded to 29 male and 29 female student-athletes from fall sports. In order to be eligible, student-athletes must excel academically and athletically, be in their final year of eligibility and plan to attend graduate school. In addition, the nominees had to have at least a 3.2 grade point average (GPA).
"We are excited for Charlie to receive such a prestigious award," said head men's soccer coach/associate athletic director Dan Gilmore. "He is a role model student and an ambassador for our soccer program. In his time as a civil engineering major, Charlie has been one of the top student-athletes at the University and for the men's soccer program."
The team captain, Cunliffe started all 20 games during the 2010 season. He made 92 saves for a 73.0 save percentage and a 2.01 goals against average. Cunliffe registered four shutouts.
He was named to the National Soccer Coaches Association of America (NSCAA) College Men Scholar All-East Region second team. Cunliffe garnered Philadelphia Inquirer Academic All-Area Team honors for the second straight year. He was selected the New Jersey Athletic Conference (NJAC) Defensive Player of the Week once.
A Rowan Scholar-Athlete, Cunliffe has a 3.842 GPA in civil engineering. He is a Student Government Association (SGA) senator and a member of the American Society of Civil Engineers (ASCE). The standout goalkeeper is also a Tau Beta Pi Engineering Honor Society inductee.
"Charlie is a mature, hard-working individual, who will no doubt excel in graduate school," stated NCAA faculty representative Ed Streb. "He is liked and respected by his teammates, coaches and his professors."
In 60 career games, the Lakewood native recorded 287 saves with a 79.5 save percentage and a 1.41 goals against average. He was the 2009 NJAC Goalkeeper of the Year and Eastern College Athletic Conference (ECAC) Metro Defensive Player of the Year.
He also received All-Conference and ECAC Metro All-Star first team and NSCAA All-South Atlantic Region third team honors. Cunliffe was chosen to the NJAC All-Academic first team.
Cunliffe has been a member of the Boca U23 program for the past five years and is also a veteran of several Boca youth teams during his career.
Boca has been a fixture in the soccer community since 1978 and is one of the most respected soccer clubs on the East Coast.
The Club is celebrating their 33-year anniversary in 2011.
For more information about the Boca U23 teams and all other the Jersey Shore Boca programs logon to the Club's official web site at www.jerseyshoreboca.com

news