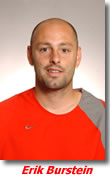 Jersey Shore Boca alumni and Rutgers-Newark head women's soccer coach Erik Burstein has announced his resignation to become the assistant women's soccer coach at Bowling Green State University. A two time NJ State Cup Champion with Boca, the standout GK was also an assistant coach and goalkeeper coach for the club's PDL team in 2003.
Reprinted From the Rutgers-Newark Website
Burstein Going To Bowling Green
WOMEN'S SOCCER
NEWARK, NJ – Rutgers-Newark head women's soccer coach Erik Burstein has announced his resignation to become the assistant women's soccer coach at Bowling Green State University.
The young mentor guided the seven-year-old program to its first-ever winning season in 2004 as the Scarlet Raiders went 10-7-1. His three-year record at the school was 23-29-2. He came to Newark in the fall of 2002 as assistant coach under Tom Condone, earning his first collegiate head coaching assignment the next spring when Condone returned to guide both the men's and women's programs at Tennessee Wesleyan College.
"My time at Rutgers-Newark has been a valuable experience and has certainly prepared me for this step," Burstein stated. "I want to thank all the coaches, the administration, the Rutgers-Newark community and, most importantly, the players who make up the women's soccer program. They are a talented, dedicated and hard-working group of individuals who have a very bright future. Without question, they are a very special group of athletes who represent Rutgers-Newark Athletics will the highest class. I will miss them dearly!"
With a deep, talented recruiting class due in August and the bulk of last year's squad returning, the Scarlet Raiders expect to bounce back from a 5-12-1 record in 2005.
Rutgers-Newark Director of Athletics Mark Griffin expects to name a successor soon.
"I am very excited about this opportunity," Burstein added. "Assisting head coach Andy Richards (2005 Mid-American Conference Coach of the Year) and having the opportunity to work with a team that has not only won conference championships, but has also appeared in the past two NCAA Division I National Championship Tournaments is a great honor!"
An accomplished goalkeeper at Toms River East High School, Burstein was all-state, all-conference and all-county first team twice for the Raiders. As a senior in 1994, he earned first team All-Shore honors and became the first soccer player in school history to be selected to the Mid-Atlantic All-American team.
As a professional player, Burstein enjoyed success both overseas and here in the United States. The starting goalkeeper for the Brooklyn Italians (1991), Burstein's performances caught the attention of Leyton Orient FC (English 3rd Division) where he eventually transferred and spent a year as a member of their youth professional and reserve team squads.
The Toms River native started his coaching and instructing career in 1997 and 1998 as the head coach of the boys' under-14 travel squad and director of player development for the West Akron Soccer Club in Ohio. In the same year, Burstein was also the head coach for the u-14 boys' team and the director of goalkeeper development for Greater Akron Premier, as well as the junior varsity head coach and varsity assistant coach at Medina Highland High School.
A two time New Jersey State Cup Champion with Jersey Shore Boca FC (1992 and 1994), and an experienced goalkeeper in the Olympic Development Programs for both New Jersey and Region I (1990 – 1994), Burstein returned to the sidelines for Boca (2003-2004) as an assistant coach and goalkeeper coach for the club's Premier Development League team (United Soccer Leagues).
A 2002 graduate of Richard Stockton College, Burstein holds a bachelor of arts degree in communications.
news