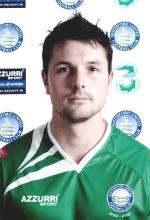 Former Jersey Shore Boca standout and current Waterford United goalkeeper Chris Konopka turned in a man of the match performance on Friday evening at Tolka Park in Dublin as the New Jersey native along with an outstanding Waterford United side defeated hosts Shelbourne 1-0 to get their League of Ireland First Division title challenge back on track. It was the first time in 11 years that the Blues have won away at Shelbourne.
Boca Alum Impresses with Waterford
Keeper turns in man of match performance as Blues top Shelbourne
DUBLIN, Ireland (May 8, 2010) – Former Jersey Shore Boca standout and current Waterford United goalkeeper Chris Konopka turned in a man of the match performance on Friday evening at Tolka Park in Dublin as the New Jersey native along with an outstanding Waterford United side defeated hosts Shelbourne 1-0 to get their League of Ireland First Division title challenge back on track.
It was the first time in 11 years that the Blues have tasted victory at Tolka Park over Shelbourne who hold a record thirteen League of Ireland titles.
Konopka, who came up with several quality saves throughout the first hour of the match to deny the home side, was called upon even more so to preserve the victory after the Blues George O'Callaghan tallied the game winner for Waterford in the sixty-third minute off an assist from Vinnie Sullivan.
As the clock wound down to within minutes of full time, Shelbourne's Phil Gorman looked to have poked home the equalizer only for Konopka to somehow turn it onto the post.
And within seconds of the referee's final whistle, the pair dueled once more as the American shot-stopper came up big and tipped Gorman's header over the crossbar and dismissed Shelbourne's last chance to salvage a point.
For his efforts, the former Jersey Shore Boca standout was named man of the match by extratime.ie, an Irish media group dedicated to coverage of League of Ireland soccer.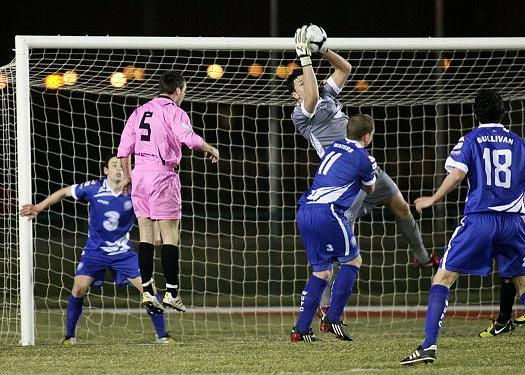 Former Jersey Shore Boca standout and current Waterford United goalkeeper Chris Konopka snags a goal-bound cross against Wexford in his Waterford United league debut March 5 as Blues players Kevin Waters (11) and Vinnie Sullivan (18) also try to defend. The Boca alum posted a 3-0 clean-sheet against Wexford and has tallied seven additional shut-outs for Waterford though the first eleven games of the 2010 season.(Photo courtesy of Waterford United Football Club).
The 6'5" Konopka, who signed for Waterford United in December, has started 9 League matches and 1 League Cup match for the Blues this season recording an impressive 8 clean sheets while only allowing three goals scored against him.
In addition to Shelbourne, the athletic shot-stopper has posted shut-outs against Wexford, Cork City, Derry City, Salthill Devon, Finn Harps and Athlone Town in league play this season and against Kerry in a league cup match on April 12.
With only the first third of the 2010 season complete, the Blues currently sit in second place on the first division table with 8 wins, 1 draw and 2 losses totaling 25 points and are 3 points behind table toppers Derry City.
The 25 year old Konopka is in his third season in the League of Ireland having already won back-to-back FAI Cup medals (Sporting Fingal in 2009 and Bohemians in 2008) and one LOI Champions medal (Bohemians-2008) during his first two years on the Emerald Isle.
The 2003 Toms River East High School graduate spent his first professional season with the Kansas City Wizards of Major League Soccer in 2007 after starring four years between the pipes at Providence College of the Big East Conference.
A long-time Jersey Shore Boca Soccer Club veteran, Konopka was a member of Boca's youth system, Super Y-League, U20 and U23 teams throughout his career as well as a member of Boca's Premiere Development League team in 2003.
The Jersey Shore Boca Soccer Club has been a fixture in the soccer community since 1978 and is one of the oldest and most respected soccer clubs on the East Coast.
Boca is celebrating their 32-year anniversary in 2010.
For more information on the Jersey Shore Boca Soccer Club, visit the Club's official web site at www.jerseyshoreboca.com
news