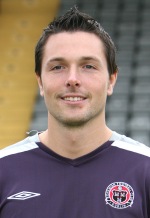 Former JSB standout Chris Konopka will continue his professional soccer career in Europe this season as the 22 year-old goalkeeper has put pen to paper and signed a deal with the fabled Irish soccer club Bohemians FC. The Boca alum joins a club that has compiled an impressive list of accomplishments including 9 League Championships, 6 FAI Cups and 2 FAI League Cups and will participate in UEFA competition this summer.
Bohs Voyage – Off To Ireland
Boca Alum Inks Deal With Irish Powerhouse
GK continues professional career in Europe with fabled club Bohemians FC
DUBLIN, IRELAND (March 4, 2008) – Former Jersey Shore Boca standout Chris Konopka will continue his professional soccer career in Europe this season as the 22 year-old has put pen to paper and inked a one-year deal with the fabled Irish soccer club Bohemians FC.
Konopka spent 2007 with the Kansas City Wizards of Major League Soccer who elected not to exercise his contract extension at the end of last season which made him a free agent allowing the young shot-stopper to negotiate and sign with any team of his choice.
The Bohemians also nicknamed the "Gypsies" are one of the oldest soccer clubs in Europe having been founded in 1890 and are considered by many to be the top professional club in Ireland.
The Bohs home ground, historic Dalymount Park, has provided a stage for some of the world's top footballers over the years including Stanley Matthews, Pele, Franz Beckenbauer, Bobby Charlton, Ruud Gullit, Marco Van Basten and Zinedine Zidane, as well as countless Irish and European stars past and present.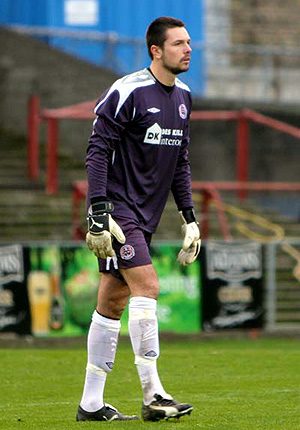 Jersey Shore Boca alum Chris Konopka takes command of his area at historic Dalymount Park in Dublin against Monaghan United. Konopka earned a start and played the full 90 minutes while recording a 1-0 shut-out in the Bohs pre-season friendly match against the Irish first division side on February 2. (Photo courtesy of Bohemians FC)
The Dublin based outfit competes in the Premiere Division of the Eircom League of Ireland and finished in third place during their 2007 campaign with an overall league record of 16 wins, 10 draws and 7 losses and are one of the teams being tipped as potential title challengers this season.
The Bohs also advanced to finals of the Eircom League of Ireland Cup and the semi-finals of the Football Association of Ireland (FAI) Ford Senior Cup last year.
Konopka, who was added to the United States U23 National Team Player Pool by US Olympic Team Coach Peter Novak this past December, joins a Bohemian club that has compiled an impressive list of accomplishments including 9 League Championships, 6 FAI Cups and 2 League Cups.
The Bohs also have an unprecedented history in European competition making seven UEFA Champions League appearances, four trips to the UEFA Cup, three stints in the UEFA Cup Winners Cup and two ventures into the UEFA Intertoto Cup playing a total of 54 games in UEFA competition, the most of any club from the Premiere Division.
The "Gypsies" will add to that total this year by virtue of their third place league finish last season and await their opponents in the 2008 UEFA Intertoto Cup.
"I am very excited and extremely honored to become part of such a fabled club like Bohs. The whole organization has treated me first class ever since I arrived in Dublin. I'm going to work hard every day and contribute in whatever way I can to help Bohs take home a league championship this season and to help us advance far into all the Cups and European competitions that we will play in. I think the team will be very competitive this year. All the guys have a great attitude" mentioned Konopka.
Konopka was invited to join the Bohs pre-season camp which began on January 17 by new manager Pat Fenlon and has impressed the Bohs skipper and his backroom staff including new full-time goalkeeping man Dermot O'Neill since his arrival.
Fenlon also doubles as Ireland's U23 National Team coach while O'Neill, also on the FAI National Team Coaching Staff, instructs the Republic's top goalkeepers at the senior level.
"Pat, Dermot, Liam [O'Brien] and Dave [Henderson] are probably the most technical group of coaches I have ever had the opportunity to work with. They really know their stuff and can bring the best out in a player. It's like having the national team coaching staff teaching you on a daily basis. I've picked-up so much in my short time here under their guidance. The entire pre-season has been top notch and I'm looking forward to working with them for the rest of the year. The whole environment is tremendous. I am positive that being here playing in Europe as a member of Bohs will help advance my professional development" Konopka added.
Bohemians open their 2008 regular league season away at Galway United on Friday, March 7.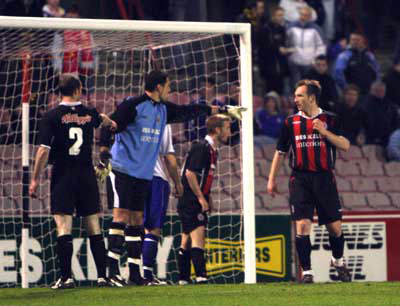 New Jersey native Konopka organizes the Bohemian defense on a corner kick in the second half of a 1-1 draw against first division club Shelbourne FC in the Bohs final pre-season game on February 29 at Dalymount Park in Dublin.(Photo courtesy of Bohemians FC)
Prior to his arrival in Kansas City last year, Konopka had impressive trials with English League Championship side Cardiff City and also with Charlton Athletic then of the English Premiership who were both keen on the young keeper.
Before joining the Bohs pre-season camp in January, Konopka drew interest from several clubs in Scandinavia along with Poland's Legia Warsaw of the Ekstraklasa.
The 6'5" keeper also trained for two weeks in late December with England's Coca Cola League One side Walsall FC.
At the collegiate level, the New Jersey native starred for four years (2003-2006) between the pipes at Providence College in Rhode Island for Coach Chaka Daley and finished third all-time in the most games ever played by a Friar goalkeeper.
While at Providence, Konopka allowed only 57 goals for a 1.17 career GAA, made 199 career saves, had a career save percentage of 77.7% and re-wrote numerous Friar record books along the way including being the first goalkeeper in Providence history to post a win in the NCAA Division I Tournament.
In his senior year, Konopka garnered All-Big East Second Team accolades becoming only the second keeper in Friar history to receive All-League honors.
He capped his college career by becoming the first player from Providence College to be drafted by a Major League Soccer team when the Wizards selected him in the 2007 MLS Supplemental Draft.
A long-time Jersey Shore Boca Soccer Club veteran, Konopka was a member of Boca's youth system, SYL, U20 and U23 teams throughout his career as well as a member of Boca's PDL team in 2003.
The former Boca keeper is a 2003 graduate of Toms River East High School and was mentored by former Raider's long-time Coach John Crowley.
The Jersey Shore Boca Soccer Club has been a fixture in the soccer community since 1978 and is one of the oldest and most respected soccer clubs on the East Coast.
Boca is celebrating their 30-year anniversary in 2008.
For more information on the Jersey Shore Boca Soccer Club, visit the Club's official web site at www.jerseyshoreboca.com
news