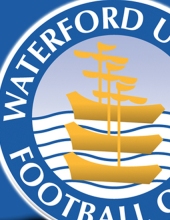 Waterford United FC of the League of Ireland Frist Division announced last Friday that they have secured the services of former Boca keeper Chris Konopka for the 2010 season. The Boca alum moves to Waterford having already won two FAI Cup medals and one LOI Champions medal during his first two years in Ireland. Konopka was a long-time Boca veteran throughout his youth and college career.
Boca Alum Inks Deal With Waterford United
Keeper is excited about move to southeast Irish coast
TOMS RIVER, NJ (December 20, 2009) – The Waterford United Football Club of the League of Ireland First Division announced last Friday that they have secured the services of Toms River native and former Jersey Shore Boca goalkeeper Chris Konopka for the 2010 season.
The 24 year old Konopka, who will begin his third season in the League of Ireland in January, moves to Waterford having already won two FAI Cup medals and one LOI Champions medal during his first two years on the Emerald Isle.
Waterford United also nicknamed the "Blues" or "United" are one of the oldest soccer clubs in Ireland having been founded in 1930. United's home venue is the newly constructed Waterford Regional Sports Center in Waterford.
The Blues new signing, who is expected to be their number one keeper for next season, is excited about his new challenge.
"I am absolutely thrilled to be a part of Waterford United for next season. They are an excellent club with a great history and talented bunch of players. They have a very technical manager and good coaching and front-office staffs. I have seen them up close several times over the past two years. They play some very attractive soccer. Waterford are looking to gain promotion back into the premiere division next season and I am going to work as hard as I can to help the club achieve that goal" mentioned Konopka.
The Blues hold six League of Ireland titles, two FAI cup titles, two League of Ireland Cup titles, three League of Ireland First Division titles, thirteen Munster Senior Cup championships and have made twenty-two total appearances in UEFA competition.
Notable former Blues players include England football legend Sir Bobby Charlton, current Irish National Team member Noel Hunt as well as retired American goalkeeper Scott Garlick who started his professional career at Waterford in 1994 and subsequently won an MLS Cup with DC United of Major League Soccer.
Waterford finished in fourth place during their 2009 First Division campaign only eight points off the top spot with an overall league record of 20 wins, 6 draws and 7 losses and is one of the clubs tipped as potential promotion challengers for 2010.
The Blues also advanced to the 2009 League of Ireland EA Sports Cup championship before losing 3-1 to top flight Bohemians and also appeared in the 2009 FAI Cup semi-finals bowing-out with a 1-0 hard fought loss to Sligo Rovers, another Premiere Division club.
Waterford is managed by former LOI standout net-minder Stephen Henderson who hails from a legendary goalkeeping family.
Henderson's father Paddy was a renowned League of Ireland goalkeeper as was his brother Dave. Henderson's younger brother Wayne is a current Republic of Ireland goalkeeper while younger sibling Stephen Henderson currently minds the nets for the Republic's Under-21 team.
Following a long playing career, Henderson spent four years as the goalkeeping coach at Cork City followed by his appointment to the top spot at Cobh Ramblers in 2004.
Henderson will begin his second season in charge of the Blues in 2010.
Konopka ended his 2009 season winning his second FAI Cup medal with Sporting Fingal FC of northern Dublin.
After signing during the July transfer window, he started eight full games between the pipes for Fingal (4 games with the reserves and 4 games with the first team) including a 4-2 win over Bray Wanderers on October 25 in the semi-final round of the FAI Cup.
The highly rated shot-stopper spent 2008 with Bohemians as a back-up to two-time LOI Goalkeeper of the Year Brian Murphy, winning two pieces of silverware with the 2008 League of Ireland Premiere Division and FAI Cup champion Bohs.
The 6' 5" keeper spent his first professional season in 2007 with the Kansas City Wizards of Major League Soccer.
At the collegiate level, Konopka starred for four years (2003-2006) between the pipes at Providence College in Rhode Island and finished as one of the top goalkeepers in Friar history.
A long-time Jersey Shore Boca Soccer Club veteran, Konopka was a member of Boca's youth system, Super Y-League, U20 and U23 teams throughout his career as well as a member of Boca's Premiere Development League team in 2003.
Konopka is a 2003 graduate of Toms River East High School.
The Jersey Shore Boca Soccer Club has been a fixture in the soccer community since 1978 and is one of the oldest and most respected soccer clubs on the East Coast.
Boca will be celebrating their 32-year anniversary in 2010.
For more information on the Jersey Shore Boca Soccer Club, visit the Club's official web site at www.jerseyshoreboca.com
news