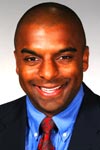 Former Boca club standout Marlon LeBlanc, head coach at WVU, was named Soccer America's Men's College Coach of the Year as announced last week. He was a member of Boca youth teams for several years and also a part of the two-time Boca New Jersey State Cup Championship teams coached by Dave Ellis in the early-1990s.
Boca Alum LeBlanc is Soccer America Men's Coach of the Year
Former club standout part of Boca's two-time state cup championship teams
TOMS RIVER, NJ (December 18, 2006) – Former Jersey Shore Boca standout Marlon LeBlanc (East Windsor), head coach at West Virginia University, was named Soccer America's Men's College Coach of the Year as announced by the world-wide soccer publication last week.
LeBlanc led West Virginia to its first Big East regular-season championship, its first appearance in the Big East tournament final and a No. 6 seed in the NCAA Tournament, their highest ever.
LeBlanc, who was appointed the new head men's soccer coach at West Virginia on August 9th after serving several years as the top assistant at Penn State, was a member of Boca youth teams for several years and also a part of the two-time Boca New Jersey State Cup Championship teams coached by Dave Ellis in the early-1990s.
He took over a West Virginia program in turmoil when Coach Mike Seaboldt was fired in July amid allegations of NCAA recruiting violations.
LeBlanc, the first assistant at Penn State for five years, left his family behind so he could be in West Virginia for the start of preseason practice.
LeBlanc, who credits the team's fast start to the work of assistants Bryan Green and Keith Wiggins in allowing for a smooth transition, preached an attacking style of play that resulted in New Zealand international Jarrod Smith having a career season.
Besides the success in the Big East, where it went unbeaten in the regular season, West Virginia's accomplishments included non-conference wins over conference champions Fairfield (MAAC) and Bucknell (Patriot) and its first win over Penn State since 1973.
Over fifty Jersey Shore Boca standouts that previously played for the club on either their Men's, Super Y-League, PDL, Club or Youth teams, participated in NCAA intercollegiate soccer this fall representing their respective institutions as players and coaches in some of the top college soccer programs in the nation.
They represent one of the highest numbers ever of Jersey Shore Boca players and coaches to participate in NCAA intercollegiate soccer during the same season in the Club's 28-year history.
Jersey Shore Boca has been a fixture in the soccer community since 1978 and is one of the oldest and most respected soccer clubs on the East Coast.
The Club is celebrating their 28-year anniversary in 2006.
For more information on the Jersey Shore Boca Soccer Club, log on to the Club's official web site at www.jerseyshoreboca.com
news