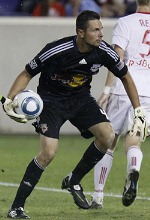 Former JSB goalkeeper Chris Konopka made his MLS first-team league debut Saturday night at Red Bull Arena in front of a sell-out crowd of 25,171 and helped the NY Red Bulls earn a 2-2 draw with the Chicago Fire. The Boca alum played the full 90 minutes allowing two goals while making three saves, including the "save of the game" in the 71st minute against Chicago's Uruguayan international Diego Chaves to help preserve the draw.
Boca Alum Makes MLS League Debut
Goalkeeper earns 2-2 draw in front of sell-out crowd
HARRISON, NJ (August 13, 2011)-Former Jersey Shore Boca standout goalkeeper Chris Konopka made his Major League Soccer first-team league debut Saturday night at Red Bull Arena in front of a sell-out crowd of 25,171 and helped the New York Red Bulls earn a 2-2 draw with the Chicago Fire.
The Toms River native played the full ninety minutes allowing two goals while making three saves, including the "save of the game" in the 71st minute against Chicago's Uruguayan international Diego Chaves to help preserve the draw.
After two first half goals by Chicago put the Red Bulls down 2-1, New York was able to equalize in the 63rd minute after a nifty interchange.
Second half substitute Juan Agudelo smartly won a header in Chicago's penalty area that fell to Joel Lindpere at the top of the area. Lindpere squared the ball to Dane Richards on the right flank who returned a centering pass to Lindpere. The Estonian international one-timed Richards ball with his left foot past Chicago's Sean Johnson for his sixth goal of the season.
With the tie, the Red Bulls add another point to their 6-6-13 record. New York has won just once in their last 11 league matches. Chicago remains stuck on two wins this season with a 2-7-14 record.
Konopka, who signed as a reserve goalkeeper with Major League Soccer on April 1, was given the nod over the Red Bulls first three goalkeepers; Frank Rost (quadriceps injury), Bouna Coundoul (travel) and Alex Horwath.
Red Bull manager Hans Backe, former assistant under Sven-Goran Eriksson at Manchester City of the English Premiere League said the Jersey Shore native deserved the start. "Konopka has been outstanding this week," Backe said. "He's looked very sharp. That's why we have selected him."
"It was a good start. I definitely enjoyed it," said Konopka, who signed with the league after three years playing in Ireland. "After I settled in a little bit, making my debut in sort of my home city, my hometown, as a Jersey boy, I absolutely enjoyed it."
Prior to the Chicago match, Konopka saw time in two Red Bull reserve games this year as well as putting in a solid 45 minutes against Newcastle United of the English Premiere League in a friendly match on July 26.
The 26 year old keeper started 50 games between the pipes among all competitions during his last three years in Ireland and won back-to-back FAI Cup medals with Sporting Fingal (2009) and Bohemians (2008), one LOI Champions medal with Bohemians (2008) and one Munster Senior Cup medal with Waterford (2010).
A 2003 Toms River East High School graduate, Konopka spent his first professional season with the Kansas City Wizards (now Sporting KC) of MLS in 2007 after starring four years at Providence College of the Big East Conference.
A long-time Jersey Shore Boca Soccer Club veteran, Konopka was a member of Boca's youth system, Super Y-League, U20 and U23 teams throughout his career as well as a member of Boca's Premiere Development League team in 2003.
The Jersey Shore Boca Soccer Club has been a fixture in the soccer community since 1978 and is one of the oldest and most respected soccer clubs on the East Coast.
Boca is celebrating their 33-year anniversary in 2011.
For more information on the Jersey Shore Boca Soccer Club, visit the Club's official web site at www.jerseyshoreboca.com

news