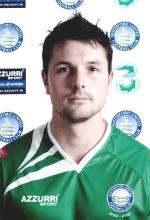 Former Jersey Shore Boca standout Chris Konopka touched down in Warsaw this morning and will begin a trial with Jagiellonia Bialystok the top team in the Polish premier league. The Boca alum will be under the watchful eyes of manager Michael Probierz and goalkeeper coach Ryszard Jankowski for his one week stay with the club. Konopka is a long-time Jersey Shore Boca veteran who came through the Boca youth program.
Boca Alum On Trial With Jagiellonia Bialystok
Goalkeeper invited to Poland's top club
BIALYSTOK, Poland (November 29, 2010) – New Jersey native and former Jersey Shore Boca standout Chris Konopka touched down in snowy Warsaw Monday morning and will begin a trial with Jagiellonia Bialystok the top team in the Polish premier league.
Konopka will be under the watchful eyes of manager Michael Probierz and goalkeeper coach Ryszard Jankowski for his one week stay with the club.
Jagiellonia Bialystok currently sit in first place of the Polish Ekstraklasa with one game remaining before the 2010-2011 winter break. The club was founded in 1920 and are one of the oldest clubs in Poland.
Jagiellonia won the Polish Cup and Polish Super Cup last season and qualified to play in the third round qualification of the UEFA Europa League. The club is also building a new 20,000 seat stadium within the city.
Konopka, who holds both American and Polish citizenship, recently finished his 2010 season in the League of Ireland with Waterford United and helped Waterford to a second place finish in the first division and a promotion playoff spot.
The highlight of his 2010 season came in May as Konopka turned in a man of the match performance at Tolka Park in Dublin as Waterford defeated Shelbourne 1-0. It was the first time in 11 years that Waterford tasted victory at Tolka Park.
The 25 year old Konopka started 50 games among various competitions during his last three years in Ireland and won back-to-back FAI Cup medals with Sporting Fingal (2009) and Bohemians (2008), one LOI Champions medal with Bohemians (2008) and one Munster Senior Cup medal with Waterford (2010).
The 2003 Toms River East High School graduate spent his first professional season with the Kansas City Wizards of Major League Soccer in 2007 after starring four years between the pipes at Providence College of the Big East Conference.
A long-time Jersey Shore Boca Soccer Club veteran, Konopka was a member of Boca's youth system, Super Y-League, U20 and U23 teams throughout his career as well as a member of Boca's Premiere Development League team in 2003.
The Jersey Shore Boca Soccer Club has been a fixture in the soccer community since 1978 and is one of the oldest and most respected soccer clubs on the East Coast.
Boca is celebrating their 32-year anniversary in 2010.
For more information on the Jersey Shore Boca Soccer Club, visit the Club's official web site at www.jerseyshoreboca.com
news