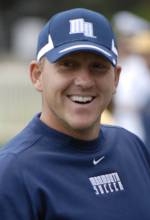 UPenn head coach of women's soccer, Darren Ambrose recently announced the appointment of Jersey Shore Boca alum Ken Masuhr as an assistant coach with the Quakers. The Ocean Gate resident, who stared at Monsignor Donovan High School before his collegiate career, was a part of various Boca youth and adult teams over the years, including a member of Boca's U23 team during 2004.
Boca Alum Tabbed by UPenn
Masuhr named Quakers assistant women's soccer coach
PHILADELPHIA, PA (May 26, 2011) – The University of Pennsylvania's head coach of women's soccer, Darren Ambrose, has announced the hiring of Jersey Shore Boca alumni Ken Masuhr as an assistant coach with the Quakers.
"I am very happy that Ken decided to join our staff at Penn," said Ambrose, who will enter his 12th season overseeing the Penn women's soccer program in 2011. "His energy and passion for the game are contagious. He understands the needs of student-athletes in today's competitive environment, and will be a great asset to our program. He did a great job at Monmouth and I expect him to do the same here. He will be our recruiting coordinator and work with the team on some defensive-related aspects of the game, where we can draw on his background as a player and previous coaching experience."
Masuhr comes to Penn from Monmouth University, where he spent the last two seasons as an assistant coach and recruiting coordinator with the Hawks' women's soccer program. His first season, Monmouth won the Northeast Conference (NEC) Tournament championship and advanced to the NCAA Championship first round. Masuhr worked with the Hawks' defensive unit, and had two players earn NSCAA all-region honors in 2009 (Ali Kliment, Lia Fierro).
Kliment, a member of the 2009 Jersey Shore Boca U23 women's team that captured back-to-back MSSL Cup Championships, also was named the NEC Defender of the Year in 2009.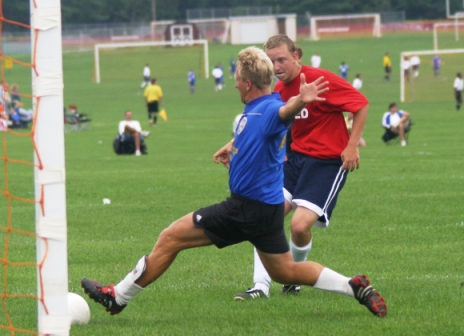 Former Jersey Shore Boca player Kenny Masuhr heads for goal with the Boca U23 team during their inaugural year in the Mid-Atlantic Summer Showcase League at Ft. Dix. Masuhr has been recently named to the UPenn women's soccer coaching staff.
Prior to his stint at Monmouth, Masuhr spent the 2007 and 2008 seasons as an assistant coach and recruiting coordinator at Fairleigh Dickinson University-Florham. Before that, he was an assistant coach with the men's soccer program at Kean University, helping the Cougars to a 2005 ECAC Tournament appearance.
Masuhr is also heavily involved in the youth soccer scene in New Jersey. Currently, the JSB alum is an assistant coach with New Jersey's under-17 Girls' Olympic Development Program team, which won the regional championship in 2010. That team featured six ODP regional players and one national team member.
As a player, Masuhr began his college career at Rutgers University, where he helped the Scarlet Knights win the Big East title and earn an NCAA Championship bid in 1999. Masuhr then transferred to Richard Stockton College, where he played a role on the 2002 and 2004 Osprey teams that won New Jersey Athletic Conference (NJAC) championships and earned NCAA bids.
Masuhr graduated from Richard Stockton with a bachelor's degree in psychology, and he also holds a Master of Public Administration degree from Kean University. As a coach, Masuhr has a "B" license from the United States Soccer Federation (USSF) as well as the Premier Diploma from the National Soccer Coaches Association of America (NSCAA).
The Ocean Gate resident, who stared at Monsignor Donovan High School before his collegiate career, was a part of various Boca youth and adult teams over the years, including a member of Boca's U23 team during 2004, their inaugural year in the Mid-Atlantic Summer Showcase League (MSSL).
The Boca alum is part of an elite group of former Jersey Shore Boca standouts who are presently "teachers of the game" at some of the most recognized college soccer programs in the United States including:
Erik Burstein (Toms River), head women's coach at Kutztown University;
George Gelnovatch (Wall), head men's coach at the University of Virginia;
Marlon LeBlanc (East Windsor), head men's coach at West Virginia University;
Ken Lola (Brick), head men's coach at the University of Louisville and
Kirk Pericciouli (Bayville), head men's coach at Ocean County College;
Paul Royal (Philadelphia), head women's coach at LaSalle University.
Jersey Shore Boca has been a fixture in the soccer community since 1978 and is one of the oldest and most respected soccer clubs on the East Coast.
The Club is celebrating their 33-year anniversary in 2011.
For more information on the Jersey Shore Boca Soccer Club, log on to the Club's official web site at www.jerseyshoreboca.com
news