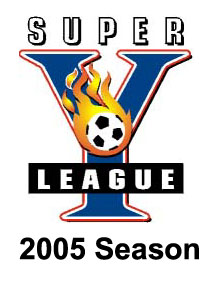 The Board of Directors of the Jersey Shore Boca Soccer Club has announced today that the Club will again participate in the United Soccer Leagues Super Y-League in 2005 and will begin holding open tryouts for their Super Y-League teams starting in December. Boca will compete in the United Soccer Leagues Super Y-League, the nation's top elite youth soccer league, for the fifth straight year in 2005.
Jersey Shore Boca Announces 2005 Super Y-League Tryouts
Club will be a part of nation's top elite youth league for fifth straight year
Open tryouts begin on December 4th for U13 and U14 teams
TOMS RIVER, NJ (November 22, 2004) – The Board of Directors of the Jersey Shore Boca Soccer Club has announced today that the Club will again participate in the United Soccer Leagues Super Y-League in 2005 and will begin holding open tryouts for their Super Y-League teams starting in December.
Boca will compete in the United Soccer Leagues Super Y-League, the nation's top elite youth soccer league, for the fifth straight year in 2005.
"We are very excited and proud to be part of the Super Y-League again in 2005 and to give our players the opportunity to compete against some of the best young soccer talent in the United States" said Al Schwartz, the President of Jersey Shore Boca.
"This will be our fifth consecutive year in the Super Y-League and as our history and experience tells us, I believe I speak for all of our directors, coaches and staff when I say that the Super Y-League is the most competitive youth soccer league in the country. We can't wait to get started again" Schwartz continued.
Boca will field six boys teams for the 2005 SYL season; U-13s, U-14s, U-15s, U-16s, U-17s and U19s.
All open tryouts for Boca's 2005 Super Y-League teams during the month of December will be indoors at Good Sports USA on Route 138 in Wall Township, NJ.
The open tryout schedule for December is as follows:
U14s-December 4th – 8:00pm
U13s-December 4th – 9:00pm
U14s-December 11th – 8:00pm
U19s-December 11th – 9:00pm
U14s-December 18th – 8:00pm
U15s-December 18th – 9:00pm
U16s-December 18th – 9:00pm
Tryouts dates and times for the U17 2005 Boca SYL team will be announced in the near future.
The 2005 Super Y-League season will begin in March and will end no later than November with details for the playoffs and finals to be announced at a later date.
The Boca SYL teams will again face some of the top youth soccer clubs in the United States during the 2005 season including DC United (DC), Super Nova (PA), Baltimore Bays (MD) and local in-state rivals the South Jersey Barons (NJ) among others.
The Super Y-League is the only North American youth league designed for the top one percent of elite youth players in the United States and Canada.
As a national affiliate of the United States Soccer Federation, the Super Y-League provides the national league structure to develop players and helps identify elite players for National Team programs through ODP status programs such as the SYL Finals and Regional Select Team weekends.
The scope of the Super Y-League stretches from as far as Vancouver, BC to Miami, FL and from Boston, MA to Los Angles, CA.
"We have now developed a solid track record and some baseline standards to gauge the effects of competing in the Super Y-League after four years. In hind-sight, everything has been extremely positive for our Club and all of our players who participated in the SYL with us" said Walt Konopka, a member of the Jersey Shore Boca Board of Directors who also coached Boca SYL teams in 2001 and 2002.
"Any player who previously participated with us in the SYL received a taste of not only what it's like to play at the next level but what it will take to get there. Regardless of the wins and losses, the fact we were able to provide our players this level of competition was tremendous toward their overall development" Konopka added.
Jersey Shore Boca has been a fixture in the soccer community since 1978 and is one of the most respected soccer clubs on the East Coast.
The Club is celebrated their 25-year anniversary in 2003.
Any player interested in attending a tryout for any 2005 Boca Super Y-League team can contact Al Schwartz at 732-341-9295 or can visit the Club's official web site at www.jerseyshoreboca.com for more information and directions.
news