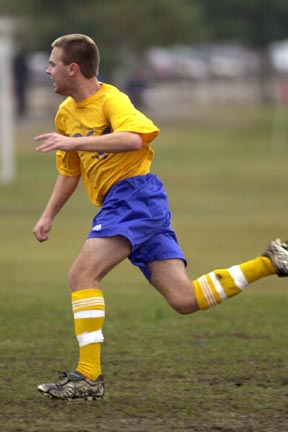 Jersey Shore Boca standouts Christian Pontier (Forked River) and Nick Gkionis (Jackson Township), veteran members of Boca's youth and U23 programs and current sophomores at Stevens Institute of Technology, combined for 4 goals and three assists between them last week to help Stevens improve to an overall record of 10-1-1 and 4-0-0 in the Skyline Conference.
Boca Duo Helps Stevens Tech Improve To 10-1-1 Mark
Pontier and Gkionis combine for 4 goals and 3 assists during last three games
HOBOKEN, NJ (October 5, 2004) – Jersey Shore Boca standouts Christian Pontier (Forked River) and Nick Gkionis (Jackson Township), veteran members of Boca's youth and U23 programs and current sophomores at Stevens Institute of Technology, combined for 4 goals and three assists between them last week to help Stevens improve to an overall record of 10-1-1 and 4-0-0 in the Skyline Conference.
Stevens is currently ranked 14th in the nation according to the National Soccer Coaches Association of America NCAA Division III poll.
On September 29th Pontier, a 2003 graduate of Lacey High School, helped Stevens to a 7-0 win at home over St. Joseph's of Patchogue (NY) when he headed in a rebound off a shot by freshman Craig Moquin (Breinigsville, PA) in the 71st minute.
Gkionis, a hard-nosed defender and 2003 graduate of Jackson Memorial High School, assisted on Josh Ottinger's (Schnecksville, PA) goal in the 14th minute as Stevens rolled to a 10-0 romp over SUNY – Maritime College on October 1st in the Bronx, NY.
In the same game against Maritime, Pontier came off the bench to score three times for Stevens. The standout forward tallied two goals in the first half and then completed the hat trick with a goal in the 78th minute.
In Stevens 7-0 win over Old Westbury College on October 2nd in Hoboken, Pontier and Gkionis each recorded an assist.
For the season, Pontier has appeared in 8 games for Stevens He has tallied 7 goals and 2 assists for sixteen points which places him third overall on the team in points. Pontier is majoring in Business.
Gkionis has played in 11 games season. He scored and assisted twice to give him 6 overall points. Gkionis is studying molecular chemistry at Stevens.
Both Pontier and Gkionis were members of the Boca U23 team this past summer which competed in the Mid-Atlantic Summer Showcase League (MSSL). They are also former members of Boca's Super Y-League and club teams.
Pontier and Gkionis are two of forty-three club standouts that previously played for Boca on either their Men's, Super Y-League, Premiere Development League, Club or Youth teams, that are participating in NCAA intercollegiate soccer this fall for their respective institutions.
Jersey Shore Boca has been a fixture in the soccer community since 1978 and is one of the most respected soccer clubs on the East Coast.
The Club celebrated their 25-year anniversary in 2003.
For more information on the Jersey Shore Boca Soccer Club, visit the Club's official web site at www.jerseyshoreboca.com
news