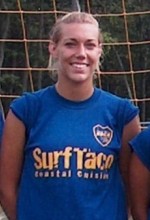 The Kutztown University women's soccer team received goals from four different players, including one each from Boca U23 standouts Jen Tice and Kelly Bushe to defeat East Stroudsburg in a PSAC quarterfinal match at Keystone Field on Tuesday. Tice and Bushe along with KU teammates Jennifer Pyne and Senica Spina were all members of the Boca U23 women's team which captured the 2009 MSSL Cup this past summer.
Boca Duo Leads Kutztown into PSCA Semi-Finals
Tice and Bushe tally goals in 4-1 win over East Stroudsburg
KUTZTOWN, PA (November 3, 2009) – The Kutztown University women's soccer team received goals from four different players, including one each from Jersey Shore Boca U23 standouts Jen Tice and Kelly Bushe to defeat East Stroudsburg University 4-1 in a Pennsylvania State Athletic Conference (PSAC) quarterfinal match at Keystone Field Tuesday afternoon.
Kutztown ended the game early tallying two goals within the first three minutes to advance to the PSAC semifinals for the first time since 2006.
The Golden Bears junior midfielder Tice (Barnegat/Southern Regional) and junior defender Bushe (Neptune City/Neptune) added their insurance goals in the second half.
Kutztown (14-4-2 overall) is ranked 24th in the latest National Soccer Coaches Association of America Top 25 poll. This was Kutztown's third victory over East Stroudsburg (11-7-2) this season.
The Golden Bears will advance to one semifinal match against PSAC West champion California (PA), a 2-0 winner over Gannon, Friday afternoon at West Chester while West Chester hosts Indiana (PA) in the other semi-final. The two winners will meet for the PSAC title Saturday at 1 p.m. at West Chester.
"We really got after ESU from the opening whistle, we got our first goal early and we continued to push for a second," Kutztown women's soccer coach and Jersey Shore Boca alum Erik Burstein said.
"Although we were two up at the half, I really did not feel the game was over. In our earlier games with ESU we were only able to put together 45 minutes of quality soccer, but today we played a full 90 minutes and got the result we fully deserved."
"This is such a great moment for the girls and I could not be more proud of them," Burstein said. "I am so proud and so happy for all the girls on this team. They have continued to train hard every day and I am very fortunate to be able to work with them on a daily basis."
Burstein was a two-time member of Boca's New Jersey State Cup championship teams of 1992 and 1994 and former assistant coach of Boca's PDL side in 2003.
Kutztown is 8-3-2 all-time against California (PA), which is ranked 16th in the latest NSCAA poll. The Golden Bears have won four straight over the Vulcans, including the last three by shutout.
This will be the first meeting between the two schools since a 3-0 KU victory during the 2007 season. If Kutztown wins, it will advance to its third PSAC title game in program history and its first since 2005.
Tice and Bushe along with Kutztown teammates Jennifer Pyne (Wall Township/Wall) and Senica Spina (Phillipsburg/Phillipsburg) were all members of the Boca U23 women's team which won the 2009 MSSL Cup this summer.
Boca has been a fixture in the soccer community since 1978 and is one of the most respected soccer clubs on the East Coast.
The Club is celebrating their 31-year anniversary in 2009.
For more information about the Boca U23 teams and all other the Jersey Shore Boca programs logon to the Club's official web site at www.jerseyshoreboca.com
news