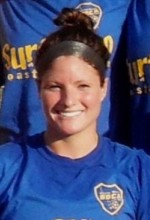 Jersey Shore Boca U23 standouts defender Chelsea Deeter and midfielder Carolynne Kahl, both from Kutztown University, were recognized for their outstanding college season by being named to the 2010 Daktronics Atlantic All-Region teams. The Boca duo helped re-write the club history books this past summer as the Boca U23 women captured the MSSL Cup for a second consecutive year.
Boca Duo Nab Honors
Deeter and Kahl named to the Daktronics Atlantic All-Region teams
KUTZTOWN, PA (November 16, 2010) – Jersey Shore Boca U23 standouts defender Chelsea Deeter and midfielder Carolynne Kahl, both from Kutztown University, were saluted for their outstanding college seasons by being named to the 2010 Daktronics Atlantic All-Region team.
Deeter was named to the first team and Kahl earned second team recognition. They helped Kutztown enjoy another solid season. In finishing with 14 victories, the Golden Bears made their second consecutive trip to the NCAA Division II Atlantic Region tournament. They are the first women's soccer team in school history to earn consecutive trips to the NCAA tournament.
Kutztown enjoyed a nine-match unbeaten streak, and was nationally-ranked during the entire 2010 season. The Golden Bears were one win shy from tying the program record for victories in a season.
This is Deeter's second consecutive first team All-Region selection. A four-time all PSAC first team selection, she helped Kutztown record 11 shutouts this season. During her outstanding career, Deeter led the way on defense, as she helped Kutztown record 37 career shutouts. She was part of a unit that set a school record for shutouts in 2009 with 13.
Kahl returned to the field with a bang this season after missing all of 2009 with a torn anterior cruciate ligament. She finished as Kutztown's leading scorer with 12 goals.
She recorded her first career hat trick in KU's 4-1 victory over Bloomsburg, which was also the 200th victory in program history. Kahl also received the PSAC women's soccer player of the week during October. She has been clutch for the Golden Bears, recording six game-winning goals. Kahl is sixth in the PSAC in points (26) and in goals per game (0.57/game).
Deeter and Kahl helped the Boca U23 women's team to a place in the club record books when they captured their second consecutive MSSL Cup championship this past summer.
Jersey Shore Boca has been a fixture in the soccer community since 1978 and is one of the most respected soccer clubs on the East Coast.
The Club is celebrating their 32-year anniversary in 2010.
For more information about the Boca U23 teams and all other the Jersey Shore Boca programs logon to the Club's official web site at www.jerseyshoreboca.com
news