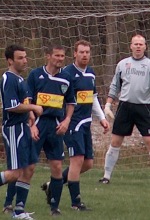 The Jersey Shore Boca men's open team battled a talented Newark Enforcers side to a scoreless first half in the New Jersey State Open Cup Championship game on Wednesday night under the lights at the Manalapan Recreation Complex, but came up just a bit short at full-time as Newark topped Boca 2-1 to take home the NJ Open Cup crown.
Boca Falls Just Short In Open Cup
Men's team falls 2-1 to Newark in tough ninety minute match
MANALAPAN, NJ (June 11, 2008) – The Jersey Shore Boca men's open team battled a talented Newark Enforcers side to a scoreless first half in the New Jersey State Open Cup Championship game on Wednesday night under the lights at the Manalapan Recreation Complex, but came up just a bit short at full-time as Newark topped Boca 2-1 to take home the NJ Open Cup crown.
Each side had limited scoring opportunities during the first forty-five minutes and felt each other out up and down the pitch for most of the beginning stanza.
Boca created the best opportunity of the match two minutes into the second half which could have changed the game completely when former Toms River North and Richard Stockton College standout Jamie Nelson's (Toms River) shot hit the post after Vasili Foukarakis (Toms River) found him just outside the penalty area.
Three minutes later, Newark counter attacked quickly and scored off an indirect kick holding Boca at bay over the next thirty minutes of the match.
After Boca gave up a second goal on a poor defensive clearance, former Monmouth University star and Southern Regional High School Hall of Famer Guy Lockwood (Manahawkin) brought Boca within one as he hammered home a fifteen yard blast beating the Newark keeper to the far post.
That would be as close as Boca would come as the match ended 2-1 in Newark's favor.
"The game was a very close one. Newark had a few very skilled players in their side and were fast. Overall they played well against us. However, the game could have gone a completely different way if Jamie's shot finds the back of the net instead of hitting the post. We became more frustrated as the match went on trying to get one back on them" mentioned Ryan Applegate, Boca's player coach.
"Hopefully we can regroup on Friday as we replay our League Cup Quarterfinal match against Trenton" Applegate concluded.
The Boca Men's Open team will host TKS Polska Trenton in the Garden State Soccer League Cup Quarter-final game at the Berkeley Soccer Complex on Friday night June 13 with kick-off scheduled for 9pm.
In addition to Applegate who starred at Central Regional and Rowan University, the Boca men are also coached by Christian Treney of Toms River East and Methodist College.
The Boca men previously captured the NJ State Open Cup Championship in 2004.
Jersey Shore Boca has been a fixture in the soccer community since 1978 and is one of the most respected soccer clubs on the East Coast.
The Club is celebrating their 30-year anniversary in 2008.
For more information on the Jersey Shore Boca Soccer Club visit the Club's official web site at www.jerseyshoreboca.com
news