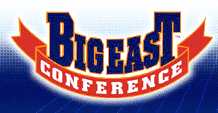 Jersey Shore Boca GK Chris Konopka and the Providence College Friars upset the nationally-ranked Virginia Tech Hokies at the Virginia Tech Soccer Complex on Sunday afternoon in the quarterfinal round of the 2003 BIG EAST men's soccer tournament.
Goalkeeper Helps Providence Upset Virginia Tech
Friars head to the BIG EAST tournament semi-finals for the first time since 1987
BLACKSBURG, VA. (November 9, 2003)- The visiting No. 7 seed Providence College Friars upset the # 23 nationally-ranked and No.2 seed host Virginia Tech Hokies at the Virginia Tech Soccer Complex on Sunday afternoon in the quarterfinal round of the 2003 BIG EAST men's soccer tournament.
The game ended in a 2-2 tie after 110 minutes of play including two overtime periods but the Friars won with a 4-2 advantage in a penalty kick shootout.
Providence advances to the semi-finals of the BIG EAST men's soccer tournament for the first time since 1987 and becomes the first seventh seed in the BIG EAST tournament 22 year history to advance to the semi-final round.
Freshman goalkeeper Chris Konopka (Toms River, N.J.) was impressive in the net for Providence during the second half of regulation time, the two overtime periods and the shootout.
Konopka made a diving kick save on the fourth Virginia Tech penalty kick attempt to help secure the win for the Friars.
He allowed only one goal in 65 minutes of action while facing 12 shots. Konopka finished the game with two saves including one point-blank shot from 6 yards out during the second half of play.
Providence junior goalkeeper Jeff Newman (Northboro, Mass.) played in the first 45 minutes of the contest allowing one goal while making three saves.
The Friars scored the tying goal when sophomore defender Zach Tobin (North Kingstown, R.I.) took a pass from sophomore Eoin Lynch (Yarmouth, Maine) and ripped a low shot in the corner of the net with 4:38 remaining in regulation.
With Tobin's goal, the Friars became just the fifth team this season to score two goals in a game against Virginia Tech.
Providence (6-9-3) will play the # 5 nationally-ranked and third-seeded Notre Dame (13-3-3) in the first game of the BIG EAST semi-finals on Friday, November 14 at 5:00 pm at Morrone Stadium on the University of Connecticut campus in Storrs, CT.
No.1 seed St. John's takes on the No. 4 seed Rutgers in the second semi-final match.
As a freshman for Providence, Konopka has played in 5 games while starting 2. He has a 1.63 goals against average and has a 72.2% save percentage for the season.
Konopka is a 2003 Toms River East High School graduate and was a three year varsity starter for Coach John Crowley.
He was named one of the top 3 high school goalkeepers in New Jersey as a senior receiving All-American, All-State, All-Shore and All-County accolades.
Konopka is also a two-year member of the US Region I Under-19 Olympic Development team and a long-time member of the Jersey Shore Boca soccer club.
He was also a member of Boca's 2003 Premiere Development League team and Super Y-League teams in 2002 and 2001.
Konopka is an aspiring computer graphics and design major at Providence.
news