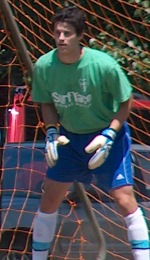 Boca goalkeeper Jon Curry-Edwards, a junior transfer at the University of Delaware, recorded his first ever collegiate win on Sunday afternoon as Delaware defeated Georgia State 3-1 in a CAA men's soccer match. The standout GK was a member of the Boca U23 team this past summer
Boca GK Picks Up First Career Win
Curry-Edwards leads Delaware past Georgia State
NEWARK, DE (October 15, 2006) – Jersey Shore Boca veteran goalkeeper Jon Curry-Edwards (Spring Lake Hgts), a junior transfer at the University of Delaware, recorded his first ever collegiate win on Sunday afternoon as Delaware defeated Georgia State 3-1 in a Colonial Athletic Association men's soccer league match at the Delaware Soccer Stadium.
Curry-Edwards made eight saves on the day helping the Blue Hens improve to 5-6-2 overall and 3-5-0 in the CAA.
The standout keeper has started in the last 4 games for Delaware this season and 5 overall allowing 7 goals while making 37 saves.
He maintains a 1.40 goals against average and .841 save percentage.
Curry-Edwards, who transferred to Delaware after two years as a back-up at Old Dominion University, was a member of the Boca U23 team this past summer that advanced to the semi-finals of the USASA U23 Regional Championship as well as the semi-finals of the MSSL Cup Championship.
The Spring Lake Heights native is also a long-time member of the Jersey Shore Boca youth program and played on Boca's Super Y-League teams earlier in his career.
Jersey Shore Boca has over fifty club standouts who previously played for Boca on either their Men's, Super Y-League, PDL, Club or Youth teams that are participating in NCAA intercollegiate soccer this fall for their respective institutions either as players or coaches.
Jersey Shore Boca has been a fixture in the soccer community since 1978 and is one of the most respected soccer clubs on the East Coast.
The Club is celebrating their 28-year anniversary in 2006.
For more information on the Jersey Shore Boca Soccer Club, visit the Club's official web site at www.jerseyshoreboca.com
news