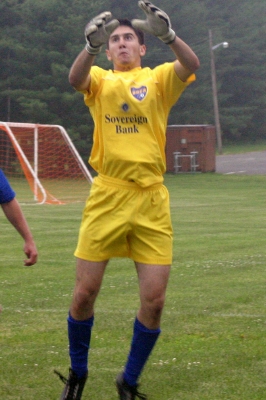 Sean Grayson, a member of the 2004 Jersey Shore Boca U23 team, reached the finals in US Men's Open division at the 2005 National Goalie War Championships which were held on February 20th in Lancaster, PA. He was one of eight GKs from across the US to compete in the National Finals.
Boca GK Reaches Finals at Goalie War National Championships
Competes in final match in front of 1000 spectators in open division
TOMS RIVER, NJ (March 8, 2005) – Sean Grayson (Plainfield, NJ), a member of the 2004 Jersey Shore Boca U23 team, reached the finals in US Men's Open division at the 2005 National Goalie War Championships which were held on February 20th in Lancaster, PA.
Grayson, who is currently the goalkeeper coach for Bound Brook High School, was one of eight GK competitors from across the United States who advanced to the National Goalie War Championships based on their previous local, state and regional competitions.
After moving through the preliminaries and semi-final rounds, Grayson lost in the Men's Open Championships to Eugene Peart of Hiawatha, Iowa in front 1000 spectators.
Grayson, who attended Middlesex County College and East Stroudsburg University, played in 5 games for the Boca U23s last year in the Mid-Atlantic Summer Soccer League (MSSL). He finished the season with a 2.20 GAA and record of 2-2-1.
The National Goalie War Championships in an annual national competition, sponsored by the National Goalie War Association, which pits the winners of regional Goalie War competitions across the Country against each other in a one-on one environment with a series of GK challenges including shots, saves, distribution and kicks.
The National Goalie War Association (NGWA), which was founded in 2001, is a national organization of goalkeepers, coaches, parents, affiliate and corporate members, partners and sponsors.
Their mission is to support the development and promotion of soccer goalkeeping through the sport of Goalie War. The NGWA presents and sanctions local, state, regional and national Goalie War tournaments.
The NGWA provides education and training to its members through its web site, publications, tournaments, clinics, corporate and affiliate members, partners and sponsors.
news