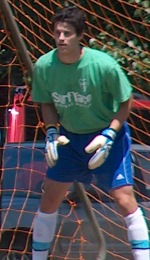 Jersey Shore Boca veteran goalkeeper Jon Curry-Edwards (Spring Lake Heights) has announced that he will transfer to the University of Delaware from Old Dominion University after this current spring semester. Curry-Edwards was a member of the Boca U20 men's team that advanced to the semi-finals of the USASA U20 Regional Championship as well as the semi-finals of the MSSL Cup Championship last summer.
Boca GK Transfers to Delaware
Curry-Edwards to play for the Blue Hens in September
TOMS RIVER, NJ (April 15, 2006) – Jersey Shore Boca veteran goalkeeper Jon Curry-Edwards (Spring Lake Heights) has announced that he will transfer to the University of Delaware from Old Dominion University after this current spring semester.
Curry-Edwards, a 2004 St. Rose High School graduate, will have three years of athletic eligibility remaining when he arrives at the Newark, Delaware campus in September.
The standout keeper was a member of the Boca U20 men's team that advanced to the semi-finals of the USASA U20 Regional Championship as well as the semi-finals of the MSSL Cup Championship last summer. He was also a member of Boca Super Y-League and Club teams earlier in his career.
While at St. Rose, Curry-Edwards recorded 33 career shutouts. In his senior year, he led the Purple Roses to the Parochial B South Championship while recording 17 shutouts and was named to the First Team All-Division, Second Team Monmouth County, and Second Team All-Shore Conference and All-State Honorable Mention teams.
Curry-Edwards will play for newly appointed Delaware Head Coach Ian Hennessy, a former All-American at Seton Hall University who has also served as an assistant coach at Boston College for four seasons.
Jersey Shore Boca had a record fifty-five club standouts that previously played for Boca on either their Men's, Super Y-League, PDL, Club or Youth teams that participated in NCAA intercollegiate soccer during 2005 for their respective institutions.
This is the highest number of Jersey Shore Boca players to ever participate in NCAA intercollegiate soccer during the same season in the club's history.
Jersey Shore Boca has been a fixture in the soccer community since 1978 and is one of the most respected soccer clubs on the East Coast.
The Club is celebrating their 28-year anniversary in 2006.
For more information on the Jersey Shore Boca Soccer Club, visit the Club's official web site at www.jerseyshoreboca.com
news