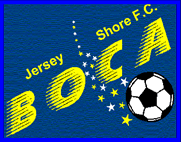 Frank Santos, one of the original members of the Jersey Shore Boca coaching ranks, passed away on Monday September 28 in Toms River at the age of seventy-nine. Santos imbedded his name into the club history books in the early '90s as he led three different Boca teams to three NJ State Cup championships between 1991 and 1995. His coaching accomplishment resides in the Jersey Shore Boca record books and has not been duplicated since.
Boca Has Lost A Great One
Coach of three-time NJ State Cup Champions passes away
TOMS RIVER, NJ (October 1, 2009) – Frank Santos, one of the original members of the Jersey Shore Boca coaching ranks, passed away on Monday September 28 in Toms River at the age of seventy-nine.
Santos had imbedded his name into the club history books in the early '90s along with fellow Boca coach Dave Ellis, as they led three different Jersey Shore Boca youth teams to three NJ State Cup championships between 1991 and 1995.
His coaching accomplishment resides in the Jersey Shore Boca record books and has not been duplicated since.
Santos also was part of the coaching staff for the Boca's North East Super Soccer League (NESSL) team of 1990 and directed several other Boca youth teams within the Club for numerous years.
The veteran Boca coach was responsible for mentoring some of the best players to ever come out of the Jersey Shore Boca program including Marlon LeBlanc (Hightstown), a former All-American at Penn State University and current head men's soccer coach at West Virginia University and Erik Burstein (Toms River), a former professional player in England and current head women's soccer coach at Kutztown University.
"Frank was a major reason why I decided to come to Jersey Shore Boca. He had a passion for the game and a desire for his players to play with that same passion" LeBlanc mentioned about his former coach.
"Frank encouraged his players to play the game without fear, to take chances and to be creative. He wanted his teams to play with flair and express themselves. It was under his guidance that our Boca teams achieved so much but we were also regarded as one of the best "futbol" playing sides because of his coaching" the West Virginia gaffer continued.
"His energy, smile and loving demeanor will forever be remembered by those of us that were lucky enough to have known him. Franks' pure love for the game has influenced so many of us and for that I am truly grateful and indebted to him" LeBlanc finished.
Burstein also added his condolences and memories.
"This is a very sad day for the Jersey Shore Boca family. Coach Santos was not only a dedicated coach and wonderful motivator, he was truly one of the most supportive and caring coaches I have ever had the privilege of playing for" mentioned the Kutztown head coach.
"His undying passion for the game and his genuine concern for all the players he came in contact with is something I carry with me today. His passion for coaching, and his love and respect for the game in general, had a massive impact on our team and all the players he worked with" continued Burstein.
"My thoughts and prayers are with his family during this time. He was a great man and he will be dearly missed and respectfully remembered" finished Burstein.
Frank was born in Lisbon, Portugal and resided in Kearny before moving to Toms River in 1973.
He was a former professional player as a teenager for Portugal's Club Athletico. Santos came to the United States in the late 1940's and played for the Portuguese Sports Club of Newark.
He also played for the American Soccer League, the Elizabeth German's and the Scotch American's, whom he went on to coach after retiring. After moving to Toms River, Santos continued coaching youth and professional soccer for 20 years.
A visitation for Frank will be held on Friday October 2 from 2-4 and 6-9 PM at the Carmona-Bolen Home for Funerals, 412 Main Street in Toms River.
A mass of Christian burial will be offered on Saturday, 9:30 AM at St. Justin's Church, Fisher Boulevard in Toms River and burial will follow at St. Joseph's Cemetery also Toms River.
Jersey Shore Boca has been a fixture in the soccer community since 1978 and is one of the oldest and most respected soccer clubs on the East Coast.
The Club is celebrating their 31-year anniversary in 2009.
For more information on the Jersey Shore Boca Soccer Club, log on to the Club's official web site at www.jerseyshoreboca.com
news