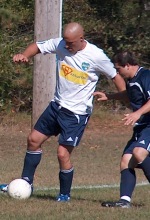 Boca's Tomas Banionis shields the ball from a Hunterdon defender on his way to two goals and one assist on Sunday as both the Boca men's and women's open teams rolled over their respective opponents in GSSL action. The Boca women topped the Central Jersey Stars 5-2 while the Boca men defeated the Hunterdon Soccer Club 6-1.
Boca Men and Women Romp
Outscore opponents 11-3 in GSSL league action
LAKEWOOD, NJ (October 14, 2007) – The Jersey Shore Boca men's and women's open teams rolled over their respective opponents on Sunday in Garden State Soccer League (GSSL) action as the Boca women topped the Central Jersey Stars 5-2 at the John Patrick Sports Complex while the Boca men defeated the Hunterdon Soccer Club 6-1 at the Forest Hills Field in Berkeley Township.
The Boca women, who are playing their first season together wearing the "Blue and Gold", received three goals from former Lynchburg College All-American Kristen Kowit and single strikes each from Jaimie Silva and Nicole Laureigh.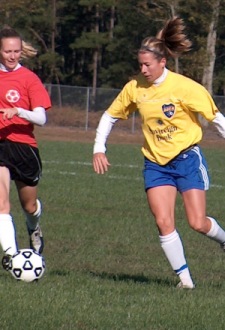 Kowit, who played her high school soccer at Red Bank Catholic, is the top GSSL goal scoring leader this season with six goals before heading into the game with the Stars.
Boca improves to 6-0-0 in league play and remains undefeated and in first place in the GSSL top women's division.
The Boca women have scored twenty-eight goals this season while only allowing eight.
The ladies of Blue and Gold will return to GSSL action next Sunday as they travel to Monmouth County and square-off against the second place Peninsula Aztecs with kick-off set at 10AM.
In men's action, Lithuanian born Tomas Banionis (Bayville) tallied two goals and added one assist as the Jersey Shore Boca men's open team made easy work of their opponents from Hunterdon County and remained unbeaten improving their record to 3-0-2 in league play.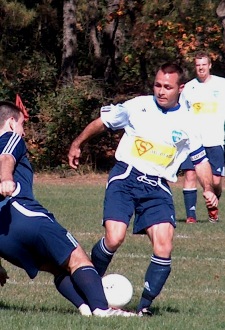 Former Lacey high school and Stevens Tech standout Christian Pontier added a goal and assist to help the Boca cause while former Shore Conference standouts Jimmy Della Pietro, Mike McCullion and Justin Fuccello struck for one goal each.
The Boca men have scored fourteen goals while allowing only three through Sunday's game.
Boca will travel to Wall Township next week for a 10AM start against division leading Soccer Post.
Jersey Shore Boca has been a fixture in the soccer community since 1978 and is one of the most respected soccer clubs on the East Coast.
The Club will celebrate their 30th year anniversary in 2008.
For more information on the Jersey Shore Boca Soccer Club visit the Club's official web site at www.jerseyshoreboca.com
news