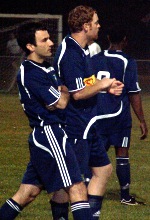 As the Garden State Soccer League winter break slowly comes to a close, Ryan Applegate, Christian Treney and the Jersey Shore Boca men's open team have set their sights on a second consecutive GSSL division title this season as well as adding other pieces of hardware to the Boca trophy case during this spring and summer.
Boca Men Anxious To Start After Break
Team sets sights on second GSSL division title and more
BERKELEY TOWNSHIP, NJ (February 27, 2010) – As the Garden State Soccer League winter break slowly comes to a close, the Jersey Shore Boca men's open team have set their sights on a second consecutive GSSL division title this season as well as adding other forms of hardware to the Boca trophy case during this spring and summer.
By finishing on top of the GSSL Semi-Pro Elite Division last year, the men's open team was promoted to the Men's Super Division for the 2009-2010 campaign and will resume play on March 28 as they travel to Icon FC of North Jersey.
The Boca men have won 5, tied 1 and lost 3 at the break and currently reside in second place of the Men's Super Division with 16 points, only 6 points shy of first place holders FC Hunterdon.
Boca has scored 39 goals at the break while conceding 19.
The Boca men's open team is also seeded into the final eight of the 2010 New Jersey Soccer Association Premiere Cup and will host the Neptune Soccer Club in a quarter-final match in April.
Toms River native and former Stockton College standout Jamie Nelson leads the Boca men in scoring with 8 goals at the break.
The Toms River North alum is also tied for first place in the League scoring race this year.
Justin McGrath (Brick), a former Monsignor Donovan and Seton Hall University standout follows with 6 goals to date which place the long-time Boca veteran tied for third in the League scoring race.
Jim Keady (Belmar), a former professional player in the USL with the North Jersey Imperials along with Lacey native and former Ocean County College keeper Brian Waldron have been solid for Boca between the pipes this season.
Former Shore area players Ryan Applegate of Central Regional and Rowan University and Christian Treney of Toms River East and Methodist College are player-coaches of the team.
In addition to McGrath and Waldron, other newcomers to the men's open team this season include Mark Schmiegel (Toms River North-Bucknell University), Brandon Zeller (Toms River East-Costal Carolina University) and Dwight Simms (Ocean Township-Monmouth University).
Jersey Shore Boca has been a fixture in the soccer community since 1978 and is one of the most respected soccer clubs on the East Coast.
The Club is celebrating their 32-year anniversary in 2010.
For more information on the Jersey Shore Boca Soccer Club visit the Club's official web site at www.jerseyshoreboca.com
news