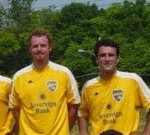 Christian Treney and Ryan Applegate were part of the Boca men's open team that took first place in the annual 2006 Overnight Soccer Tournament held at Giants Stadium on August 26th and 27th while helping raise money for benefit of the American Cancer Society.
Boca Men Help Raise Money for American Cancer Society
Team takes first place in overnight tournament fundraiser at Giants Stadium
TOMS RIVER, NJ (September 6, 2006) – The Jersey Shore Boca men's open team took first place in the competitive bracket of the annual 2006 Overnight Soccer Tournament held at Giants Stadium in the Meadowlands on August 26th and 27th while helping raise money for benefit of the American Cancer Society.
The Overnight Soccer Tournament is an annual event designed to help raise funds for a designated charity of New York Red Bulls of Major League Soccer.
For the past two years the Red Bulls (formerly Metrostars) have partnered with the ACS and has generated over $25,000 for cancer research.
This year's tournament started on Saturday night August 26th after the Red Bulls hosted Real Salt Lake and continued into the early hours on Sunday morning August 27th.
The event was open to members of the community with teams in both competitive and recreational categories vying for the titles.
Since the inception of the overnight event, the seven vs. seven competition has been held at Giants Stadium with more than 30 teams competing each year with all the proceeds from entry fees and sponsorships going to the ACS.
After going 4-0-0 in preliminary round tournament games, Boca played a tough Chelsea Piers team from Manhattan to a 0-0 tie in the semi-final match throughout regulation and then advanced to the finals after besting Chelsea in a penalty kick shoot-out.
In the championship game, Boca defeated F.C. Sebil from North Jersey 3-1.
The Boca men played a total of six games throughout the tournament out-scoring their opponents 23-3.
Former shore area players Ryan Applegate of Central Regional HS and Rowan University and Christian Treney of Toms River East HS and Methodist College are the team's player-coaches.
Other Boca players participating in the charitable tournament included Lithuanian born Tomas Banionis (Bayville) and former Monmouth University players John Carrozza (Central Regional) and goalkeeper Art Satterwhite (Franklin Township).
Boca team members also included Dowaine Green, a former standout at Richard Stockton College and Ocean Township HS, Jim Dellapietro (Lacey Twp HS – Bloomfield College), Kemal Kansu (Toms River East) who played professionally with the New Jersey Stallions, Nick Tarquinio, III (Point Pleasant Boro-Moravian College), Jason Mancuso (Toms River North – Central Connecticut State University) and Justin Fuccello (Brick Memroial – Rutgers University).
The Boca men's team raised $800 for the charitable event.
Jersey Shore Boca has been a fixture in the soccer community since 1978 and is one of the most respected soccer clubs on the East Coast.
Over fifty Jersey Shore Boca standouts who previously played for the Club on either their Men's, Super Y-League, PDL, Club or Youth teams are participating in NCAA intercollegiate soccer this fall representing their respective institutions as players and coaches in some of the top college soccer programs in the nation.
The Club is celebrating their 28th year of existence in 2006.
For more information on the Jersey Shore Boca Soccer Club visit the Club's official web site at www.jerseyshoreboca.com
news