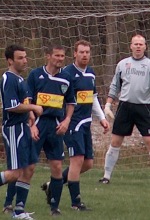 The Jersey Shore Boca men's open team, current holders of the Garden State Soccer League Cup Championship, will hold a one-day open tryout on Saturday, August 16 at the Forest Hills Field on Forest Hills Parkway in Berkeley Township for all players interested in joining the squad for the upcoming 2008-2009 season. Players are encouraged to arrive early.
Boca Men Holding Tryout
GSSL League Cup Champions Look For Squad Additions
BERKELEY TWP, NJ (August 8, 2008) – The Jersey Shore Boca men's open team will hold a one-day open tryout on Saturday, August 16 starting at 10am at the Forest Hills Field on Forest Hills Parkway in Berkeley Township for all players interested in joining the squad for the upcoming 2008-2009 season.
There are no age restrictions for interested players.
The tryout will include a full friendly match against a local college team.
The Boca men finished last season in impressive style with an overall record of 18 wins 2 ties and 4 losses in route to the capture of the Garden State Soccer League Cup on June 29.
Boca also advanced to the NJ State Open Cup Championship during 2007-2008 before being narrowly defeated 2-1 by the Newark Enforcers also in June.
The team also placed third in the Garden State Soccer League Semi-Pro Elite Division last year with a regular league record of 9-2-3 and 29 overall points.
Former shore area standouts Ryan Applegate of Central Regional and Rowan University and Christian Treney of Toms River East and Methodist College are player-coaches of the team.
Jersey Shore Boca has been a fixture in the soccer community since 1978 and is one of the most respected soccer clubs on the East Coast.
The Club is celebrating their 30-year anniversary in 2008.
For more information on the Jersey Shore Boca Soccer Club visit the Club's official web site at www.jerseyshoreboca.com
For additional information or questions about the men's tryout contact:
Ryan Applegate – Jersey Shore Boca – Men's Open Coach – 732-278-5099

news