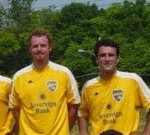 The Boca men's open team will seek to advance the NJ State Cup finals on Thursday night, May 24 when they square-off against the German American Kickers in a semi-final match starting at 8pm at the Eastern Fields Soccer Complex in Berkeley Township.
Boca Men Host Semi-Finals of NJ State Cup
Will face the German American Kickers on Thursday night
BERKELEY TWP, NJ (May 22, 2007) – The Jersey Shore Boca men's open team will seek to advance the New Jersey State Cup finals on Thursday night, May 24 when they square-off against the German American Kickers (GAK) from Trenton in a Cup semi-final match starting at 8pm at the Eastern Fields Soccer Complex in Berkeley Township.
After a first round bye, the Boca men advanced to the semi-final match with an 8-2 trashing of the Parsippany Soccer Club and 7-1 beating of Waldwick in the second and third rounds respectively during 2006 and a 7-1 victory over the Spring Street Strikers from North Jersey in a quarter-final game May 9th.
GAK defeated Bayonne United 5-2, Pompton Lakes 2-0, Hoboken SC 2-0 and the Sheffield Crew 5-1 in the quarter-finals to advance to the semi-finals.
In the other semi-final game, Hump Street SC and the Union Ticos will face each other at Frank Sinatra Field in Hoboken NJ at 8pm on Thursday May 31st.
The NJ State Cup Finals are scheduled for the first week of June.
Former Shore area players Ryan Applegate of Central Regional and Rowan University and Christian Treney of Toms River East and Methodist College are player-coaches of the team.
Accordingly to Applegate, "Although the score was not indicative of the game, the Spring Street team was very competitive. I think we played our best soccer of the season in that game."
"We should get John Carrozza (Monmouth) back for semi-final game against GAK. He has been out the entire Spring season with an ankle sprain and Donny Gray (Rutgers), Kevin Hartwyk and Ed Hayden (Monmouth), and Andrew Hawtin (Syracuse) have played a combined 4 games for us this season. Hopefully with a full roster we will play to our full potential" Applegate continued.
Applegate also added some thoughts about facing Boca's recurring nemesis from the South, "GAK is our biggest rival. Our last 3 or 4 games against them have been decided by 1 goal. For us this is the biggest game of the season. If we don't win this game, this season will not have been a success."
Boca's semi-final NJ State Cup game against GAK at Berkeley's Eastern Field Complex is open to the general public and admission is free.
Jersey Shore Boca has been a fixture in the soccer community since 1978 and is one of the most respected soccer clubs on the East Coast.
The Club is celebrating their 29th year of existence in 2007.
For more information on the Jersey Shore Boca Soccer Club visit the Club's official web site at www.jerseyshoreboca.com
news