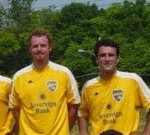 After a mid-season break and some time-off for the winter, the Jersey Shore Boca men's open team is looking forward to the new year as they prepare for the remainder of their 2006-2007 season and a NJ State Cup Quarterfinal match in March.
Boca Men Looking Forward To New Year
Team continues season in March with NJ State Cup Quarter-finals
TOMS RIVER, NJ – After a mid-season break and some time-off for the winter, the Jersey Shore Boca men's open team is looking forward to the new year as they prepare for the remainder of their 2006-2007 season and a NJ State Cup Quarterfinal match in March.
The Boca men hold an overall record of 6-2-1 at the break including two convincing wins, an 8-2 trashing of the Parsippany Soccer Club and 7-1 beating of Waldwick in the first and second round of the 2006-2007 New Jersey State Cup.
Boca will face Cup newcomer Spring Street Strikers from North Jersey in their NJ State Cup quarter-final match in March.
In league play, the Boca men's team (4-2-1) are currently in third place out of seven teams in South Group of the Garden State Soccer League's Semi-Pro Elite Division
The team's two league losses thus far came at the hands of the German American Kickers (GAK) and the Polish Falcons while their four league wins came in games against last year's NJ State Cup champion TKS Trenton, local rival Shore Hurricanes, Hunterdon SC and the always tough Tatry Slovakia.
Lithuanian born Thomas Bannionis (Berkeley Township) leads Boca in scoring with 18 goals so far this year.
Jamie Nelson (Toms River), a former standout at Richard Stockton College and 2000 Toms River North graduate follows with 10 goals in-front of former Monmouth University and Central Regional mid-fielder John Carozza (Bayville) who has notched 7 on the year so far.
Former Shore area players Ryan Applegate of Central Regional and Rowan University and Christian Treney of Toms River East and Methodist College are player-coaches of the team.
According to Applegate who is sidelined recovering from knee surgery, "Treney, Point Pleasant's Nick Tarquinio (Moravian College) and former Southern Regional and Monmouth University standout Guy Lockwood have been solid on defense all year. John (Carozza) and Jay Mancuso (Toms River North) have controlled the center midfield with Mike McCullion (Monsignor Donovan – College of New Jersey), Eddie Albanese, and Eric Davis (Lakewood – Ocean County College) platooning on the outsides."
"Justin Fuccello (Brick) has been one of our most valuable players because of his ability to play every position, knack for scoring big goals and the intensity that he brings to the game" Applegate concluded.
Both Fuccello and Mancuso were members of the Boca U23 team last summer that advanced to the semi-finals of both the USASA U23 Regional Championship and the Mid-Atlantic Summer Showcase League (MSSL) Championship.
Jersey Shore Boca has been a fixture in the soccer community since 1978 and is one of the most respected soccer clubs on the East Coast.
The Club is celebrating their 29th year of existence in 2007.
For more information on the Jersey Shore Boca Soccer Club visit the Club's official web site at www.jerseyshoreboca.com
news